Better beach weather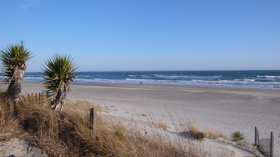 Finally after a month of cold weather, we are now getting some warm temperatures once again We've had lots of Robins in our yard, and I've actually been out to get the newspaper two mornings in a row without a coat. Those are good signs. It's nice to see that
the ice on channel
behind the house didn't become permanent.
The last couple of weeks, I've been previewing homes throughout Carteret County. I am stunned by the selection of real estate available here on the Crystal Coast. There is everything from huge homes on the water costing in the millions to newly constructed homes priced under $270K. I am also surprised by the number of people interested in the Crystal Coast who have never even been here. People are searching for areas with low crime, great weather, pure water, and friendly people.
I feel pretty safe in saying the Crystal Coast meets those requirements with little trouble. There are lots of other advantages that come with living here. We have had a good time hiking in spite of the cool weather. I have created
a web page with links
to many of the wonderful accessible trails here on the coast that can be enjoyed even by those who need to use wheel chairs.
While we were checking out homes in Emerald Isle today, we decided to have lunch at
Jordan's
. I have given them my official award for the best piece of Flounder that I've had so far in Western Carteret County. They are located at
8106 Emerald Dr.
and are closed on Tuesdays this time of year.