25-Sep-2007 21:33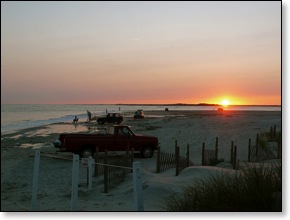 It is definitely time to catch some fish on the Point at Emerald Isle.
We drove out today to catch the sunset. It was pretty spectacular.
I still can't get over how the Point has changed.
When I took this picture, I had pulled my truck to the top of the entrance ramp to get some height for the picture.
There so little room left to drive, I am wondering how much I will use the permit that I got for beach driving.
It looks a lot more challenging at some of the other entrances, but at least their beach hasn't disappeared.
There's actually more sand on the Point than there used to be, it just isn't where it was this winter.
02-Sep-2007 23:05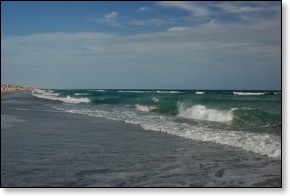 It is the last weekend of summer. The skies have cleared. The temperatures have moderated.
Anyone left on the beach is still enjoying their time there.
The water is still plenty warm and any crowding is mostly waiting for a seat at the area restaurants.
Today we drove up to Pine Knoll shores where this picture was taken. We took a short walk on the beach and then visited another beach access in the area.
After that we drove to Salter Path where we walked out the elevated boardwalk to the beach. It was so nice out there sitting above the beach in the breeze that we never made it down the steps to the beach.
On the way home I stopped to snap a picture of the Emerald Isle Bridge, the marshes at Croatan Park, and a beautiful White Oak River sunset. All the pictures are posted in
a set on Flickr
.
25-Aug-2007 23:02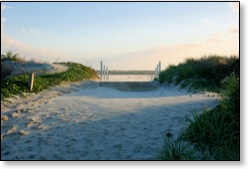 Summer is beginning to slip away even as the heat hangs on along the coast.
It will not be many weeks before we will start experiencing cools breezes once again.
The air will clear. The beaches will empty, and the Crystal Coast will pretty much revert to the permanent residents.
It is a great time to come to the beach. I am already starting to hear from people who want to visit in the fall in anticipation of a move next year.
There is no better time to come than when we have warm days and cool evenings.
I have put together
a number of listings
for those interested in browsing the property available in our end of Carteret County.
Pictures are a great way to view our area, and I have
a web page
dedicated to slides shows and images that I have taken over the last year.
If you want a quick view of what it is like to live on the coast, check out this link to
a brief tour of my first year
on the coast.
I also have a new web page with some of
my favorite posts and recipes
.