The last weekend of summer
02-Sep-2007 23:05 Filed in:
Beach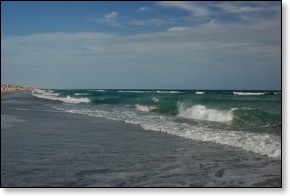 It is the last weekend of summer. The skies have cleared. The temperatures have moderated.
Anyone left on the beach is still enjoying their time there.
The water is still plenty warm and any crowding is mostly waiting for a seat at the area restaurants.
Today we drove up to Pine Knoll shores where this picture was taken. We took a short walk on the beach and then visited another beach access in the area.
After that we drove to Salter Path where we walked out the elevated boardwalk to the beach. It was so nice out there sitting above the beach in the breeze that we never made it down the steps to the beach.
On the way home I stopped to snap a picture of the Emerald Isle Bridge, the marshes at Croatan Park, and a beautiful White Oak River sunset. All the pictures are posted in
a set on Flickr
.