18-May-2007 23:11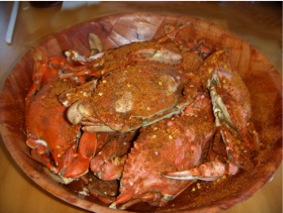 We were at the
Crab Shack
in Salter Path the other night enjoying one of my favorite meals,
the whole fried clams
.

One of our fellow diners got served a bowl of Maryland style steamed blue crabs.

They looked delicious, and my questions to enthusiastic crab eater confirmed it. That was the tipping point for me.

I made my decision then to come back the next afternoon and tackle a bowl of crabs myself.

I tried to convince my wife to participate in my feast, but she would hear none of it.

The next day we got to the Crab Shack sometime after 1:30 pm, I ordered my half dozen crabs, and my wife, Glenda, in protest I suspect ordered chicken pot pie.

Since I knew it would be a long time before I got any significant nourishment from crab effort, I also ordered a bowl of clam chowder which turned out to be excellent.

I actually enjoy the Down East style chowders which have little or no milk in them. The Crab Shack's version has a rich clam taste.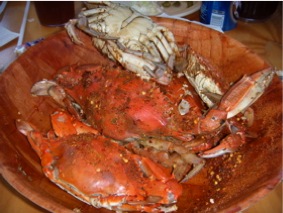 My crabs finally arrived in all their glory just before 2 pm.

Sometime around 2:45 pm I managed to see the bottom of the bowl.

It took me until nearly 3:30 pm to
finish the crabs off
.

I had to really hurry towards the end since my wife was starting to comment that we might as well stay for dinner.

I can highly recommend the Crab Shack's Maryland style steamed crabs.

The Olde Bay spices with the crushed red pepper were just right as long as there was a beer not too far from my hands.

My Maryland friends were impressed that the crabs showed up with nothing more than saltines.

There were no mallets but other than that I would have to say this was a great way to eat North Carolina blue crabs.

The Crab Shack opens daily at 11 am, and their phone number is 252 247-3444. Just tell them David sent you, and leave a few crabs for me. They are right next to
Willis Seafood
.
21-Jan-2007 22:44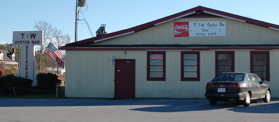 T&W Oyster House is located five miles north of the Emerald Isle bridge on Route 58. Our first experience with T&W came this summer when we were still looking for a house in the area.
I had been searching for some great oysters and happened to be driving by one day. It seemed logical to me that you would find great oysters at an oyster house. That proved to be the case. Since then we have had a number of fine seafood meals at the T&W Oyster House. In fact Saturday afternoon we were coming back from Jacksonville through Stella, and we happened upon T&W about 4 pm. Since we had skipped lunch, an early dinner sounded pretty good, so we swung into the parking lot. My wife, Glenda, immediately noticed the signs for breakfast. Having breakfast in a restaurant is one of our favorite ways to start the day.
That is sometimes a challenge in the Emerald Isle, Cape Carteret, Cedar Point and Swansboro area. If you're late for breakfast, you can end up waiting. The idea of another breakfast spot sounded great to us.
We went into T&W and enjoyed a great plate of flounder and shrimp by one of their impressive fireplaces. As we were finishing the meal, we asked the waitress about the Sunday breakfast buffet. It sounded delicious and having our next meal sixteen hours or so later sounded about right considering the amount of flounder and shrimp we put away.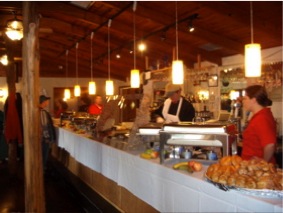 This Sunday morning we showed up at T&W's just as they were opening. In fact there were plenty of people already in the restuarant so it took them an extra five minutes or so to finish preparing everything before they opened the buffet.
The variety of food spanned the imagination of a breakfast lover. There was everything from scrambled eggs to eggs Benedict, French toast, bacon and sausage.
I particularly enjoyed the fluffy biscuits and the spicy sausage gravy which was filled with sausage. It will take more than one trip to do a taste test on all the buffet items. It is a tough job, but we will see what we can do. Randy Swanson, the manager, told us that he will likely open earlier next Sunday due to popular demand. It wouldn't hurt to phone ahead to check the opening time if you want to do the Sunday buffet.
Or you could check out the regular breakfast which is available from 6:30 until 10:30 AM during the week. We just might see you there.
The buffet is very reasonably priced at $7.50 per person with beverages being extra. I've eaten at some very fine buffets over the years, including some famous ones like the Homestead and the Greenbrier. While the T&W Oyster Bar certainly isn't as fancy, the breakfaast food will hold its own against plenty of more expensive spots.
Their telephone number is 252 393-8838. They are located on the left on Route 58, five miles north of where 58 and 24 intersect.
10-Dec-2006 23:03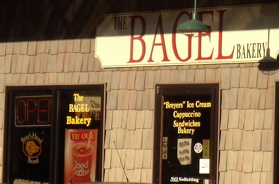 This morning on my early morning run to Wilmington for my real estate classes, I decided to stop for a bagel just before I got to Wilmington. I was hoping a bagel might help me stay awake. Getting up well before six am and driving to Wilmington for a 9 am class can make keeping your eyes open challenging.
I had seen the bagel shop in Hampstead a couple of times but it never appeared to be open in the afternoon when I had time to stop. This morning I found out why. The
Bagel Bakery
closes at 3 pm every day. They open at six or seven am depending on the day of the week. Bagel shops often have weird hours.
Many of our coastal shops are famous for having "island time" or basically being open whenever they please. I guess when you have a coastal bagel shop, you can expect a schedule that fit the environment. The bagel and cream cheese was very good. I bought a few for some breakfast and sandwich variety so we'll see out they turn out.
If you're headed south to Wilmington, The Bagel Bakery is located on the right on US Highway 17, in Hampstead, NC. If you go past the big Ace Hardware, you have missed it. Their phone number is (910) 270-9099.