The Bagel Bakery, Hampstead, NC
10-Dec-2006 23:03 Filed in:
Dining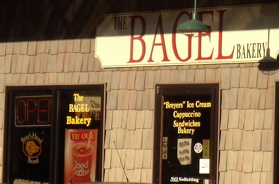 This morning on my early morning run to Wilmington for my real estate classes, I decided to stop for a bagel just before I got to Wilmington. I was hoping a bagel might help me stay awake. Getting up well before six am and driving to Wilmington for a 9 am class can make keeping your eyes open challenging.
I had seen the bagel shop in Hampstead a couple of times but it never appeared to be open in the afternoon when I had time to stop. This morning I found out why. The
Bagel Bakery
closes at 3 pm every day. They open at six or seven am depending on the day of the week. Bagel shops often have weird hours.
Many of our coastal shops are famous for having "island time" or basically being open whenever they please. I guess when you have a coastal bagel shop, you can expect a schedule that fit the environment. The bagel and cream cheese was very good. I bought a few for some breakfast and sandwich variety so we'll see out they turn out.
If you're headed south to Wilmington, The Bagel Bakery is located on the right on US Highway 17, in Hampstead, NC. If you go past the big Ace Hardware, you have missed it. Their phone number is (910) 270-9099.