December 4 Daily Record
04-Dec-2006 22:36 Filed in:
Roanoke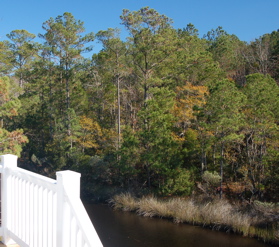 There is no doubt that cool weather has finally found the Crystal Coast. The weathermen are even calling for temperatures to fall into the upper twenties tonight. That is about as cold as I care to see it.
Still I have a hard time complaining. It was warm enough sitting in the sun in my upstairs office, that I opened the window for a few hours. Reports from the mountains around Roanoke, Virginia indicate that we should be thankful for the warmth that we have.
I still have not had to put a coat on to go get the newspaper yet. I also worked on some panorama pictures just after lunch today, and it was still shirt sleeves weather. I can still remember when we moved from northern New Brunswick in eastern Canada to Halifax, Nova Scotia. We found that we could wear tennis shoes for a good part of the winter. We were astonished. We had seen temperatures as low as minus forty degrees on our farm.
I was definitely a lot tougher in those days, but that was twenty five years ago. As one New Brunswicker who visited us in Virginia a few years ago asked, "Tell me again why you moved to Canada." Well we moved for cheap farm land. Fortunately today I can say that we moved to the Crystal Coast for quality of life and a great climate. So far it has been a great experience.