Unforgettable clouds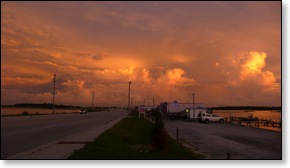 Yesterday was another warm day. We did a little boating in the morning but the heat got to me, and I decided that there are better times to be on the water.
There were some big clouds beginning to build to the north of us so I decided we would come in and clean the boat up with the hope that better weather would show up this weekend.
Later in the day, I was taking sunset photos from the Swansboro bridge near Clyde Phillips Seafood when I saw a boat streaking across the harbor. I looked to the east and saw the cloud formation that had them moving so fast.
As you can see it was very impressive. I would want to offshore or even in the Intracoastal Waterway with those clouds bearing down on me.
I think they stayed off shore, but they were certainly impressive.