Swansboro's Centennial Park and weather fit for paradise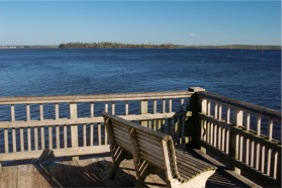 If the weather gets much better, all work is going cease. It's probably good that the fishing isn't very exciting right now or all the boats would back in the water. Today we decided to get out from the weight of the Internet which delivered about 30,000 click-throughs to my other sites from an
article
that I wrote about the upcoming MacWorld.
We went out to breakfast at Laurie Ann's Kitchen (I'll do a review when I get time), then drove over to the Swansboro Centennial Park and enjoyed the expansive water scenery from the piers. After that we took a trip down through Swansboro's Historic District. The only excitement was Morris, one of the town cats, was helping with merchandising just outside one of the stores. After that we drove across the bridge to Emerald Isle to check the movie times. We then headed back to home in
Bluewater Cove
. I immediately changed into shorts and tee-shirt as the temperature was well into the upper seventies on the very sunny south side of our house. I finished a project to add some tippet to the leader for my fly rod and then headed to the dock to exercise my new NC Saltwater fishing license.
I got in some good practice casting into a slight wind. The extra tippet was perfect. I didn't expect to catch anything but I had some very pleasing casts. I don't have nearly as fancy a saltwater fly rod as the one which is my favorite for mountain trout fishing. The rod I'm using is a St. Croix one with a LL Bean reel. So far I haven't seen much fly gear here in the Swansboro area, but I keep looking.
I know fishing picks up in the spring along with the interest in the beach rental market. With the weather the way it is right now, it would be a great time to rent a spot over on the Emerald Isle beach. There are no crowds and the rates are low, but the water might be a little cool for a dip.
After my fishing, I went for a forty five minute bike ride in the neighborhood. It was almost too hot. I had to take a shower when I got back before we headed out to our 3:10 movie over at Emerald Isle. Since we came to one of the early shows, we got our tickets for $5 each which is a good deal these days. We watched "The Pursuit of happiness" (review also coming) and after it was done headed to the
Ice House
in Swansboro for dinner. We both had Grouper Grandwiches for dinner. Since I'm trying to do better with my food selections, I did at least switch the fries out for a small salad.
As we left the Icehouse, and noticed the crowd of people waiting for seats, we were glad we had come early. When we got home just before seven pm, I was surprised to find the house where we left a number of windows open still at over seventy two degrees Fahrenheit.
I guess that is the way it is in paradise here on the Southern Outer Banks. I hope tomorrow is as much fun.