The storm has passed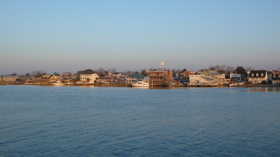 I'm hoping that it won't take many days to get back to clear skies and calm water like the that in this early morning picture of Swansboro that I snapped earlier in the week. The weather system and front which passed through today after walloping the
Midwest
and the
South
, is still causing trouble in the Northeast and
Canada
.
The fifteen day
Accuweather forecast
for the Cape Carteret/Cedar Point/Swansboro area has twice as many days in the sixties/seventies as it does in fifties. So we are making steady progress towards spring. I'll take fifties and sixties over snow and ice any day of the week.
This was a huge storm even when it moved off the coast. You can click this
link
for a current NOAA image. If you are a little late catching this post, I did a
screen capture
which I hope NOAA won't mind me posting for posterity.
The better weather forecast for the next couple of weeks and
the warm weather
we've already had should make for some improved fishing in to the not too distant future.
In the technology front, if you're interesting in real estate tools, I have had great luck building
a home virtual tour for 126 White Heron Lane
which is located in Bluewater Cove. The tour includes a walk thorugh. The software I used is called
Mapwing
and I highly recommend it. I'll be posting more on it later.