Snow only five hours away
07-Feb-2007 22:02 Filed in:
Weather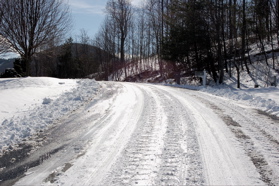 It may come as a shock, but you only have to travel a few hours to find some significant snow that is the result of the recent east coast cool down. While it got to 54 degrees Fahrenheit in Cape Carteret today, just a little over five hours away in Roanoke, Virginia the temperature only managed to make it to 36 degrees Fahrenheit. That coupled with roads that had been chilled by temperatures as low as
8 degrees Fahrenheit
mean that the snow stuck to the roads. Roanoke is just far enough south that a good snow is a treat. Unfortunately the town is also in the mountains and as any experienced winter driver will tell you, it is not going up an icy hill that is a challenge. What separates those who are crazy from those who are only slightly foolish is going down an icy hill. Once you have broken loose on ice there is nothing to do but try to enjoy the ride and hope that where land is a soft spot instead of a metal guard rail or in someone's living room.
The
February 6, 2007 snow
was a fairly small one, but it has created some treacherous roads. The snowfalls on
February 12, 2006
and
February 28, 2005
were both more impressive. The larger snows actually keep people at home and off the roads. A small storm like the one on the six is ignored by the thousands of four wheel drive vehicles in Roanoke. The storm finished just before people headed off to work so the roads were not plowed. The morning traffic actually packed the snow into ice.
On our 17% slope hill which has a vertical drop of over 160 feet is a popular spot for kids whose parents haven't figured out the dangers of sledding on a road. Our kids who were used to playing in the woods which surround us had some great sledding spots which weren't on the road. Today's kids whom are a little less adventurous in trying the woods. They are crazy enough to think that is okay to be sledding on an icy road and competing for space with SUVs weighing over two tons. I actually saw a parent sledding with some this morning. On an icy 17% slope hill, the last thing you need to be doing is dodging people on sleds. The sleds also pack the snow so the plows can't clean the roads. It ends being some short term fun for the kids and a lot of headaches for the people who actually use the road. It also can lead to serious injuries and even death.
I'm actually looking forward to getting off the icy hill and walking on the beach once again. I should be there tomorrow.