Blue skies and warm temperatures are back
04-Jan-2007 00:04 Filed in:
Weather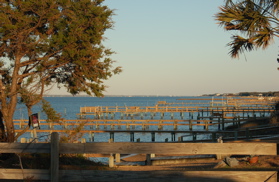 There's nothing like coastal or mountain weather. If you don't like it just wait a few minutes. Tuesday we went for a drive over to Emerald Isle. This shot was taken from the sound side of Emerald Isle looking towards the mainland. We even stopped and went for a
walk on the beach
. It's a little hard for an ex-Canadian to fathom walking on the beach with a warm sun beaming down on your back on January 3, but I am trying hard to adjust. Wednesday I even wore short sleeves to a business meeting. As far as I am concerned I would vote for this as our year round climate.
As we were driving around, it dawned on me that many Emerald Isle neighborhoods get down to very few souls in the winter time. I know it is better than many coastal area, but still compared to our spot in
Bluewater Cove
, things are a little deserted for my taste. Of course some people thrive on the extra privacy. However, it hit me that the best way to tell is to show up just before trash collection and see how many cans are waiting at the curb.
Wednesday was an even a nicer day, so I keep wondering when the weather gods are going to demand their pound of flesh. I know people all along the east coast are enjoying higher than normal temperatures so just maybe we won't be singled out when the time is near to pay for this wonderful winter weather.
Thursday I have promised myself that I will save some time for fishing and bike riding. Why live in paradise if you can't enjoy it some?