Bogue Sound Sunset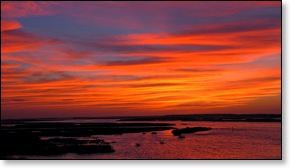 You don't have to look very hard to find wonderful scenery here on the Crystal Coast. Today was another great late fall day.
It was warm enough for the air conditioners to come on late in the afternoon, but last night we slept with the windows open.
The White Oak looked to be be whipped up a little with some small whitecaps near the bridges in Swansboro.
Still it was a great day to be alive and enjoying the area. I didn't get a chance to get out in the kayak or the boat today, but I plan to remedy that tomorrow.
I guess having to spend the afternoon in the office can be forgiven once in a while. I got
another great picture
on the way home.
'