Watching Boats Come in at Fort Macon Beach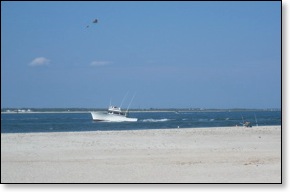 One of the great pleasures of the Crystal Coast is that we have many different beaches.
Our coast is not just a single strand of sand dedicated to sun worshippers and swimmers.
If you move along the shore, you will see different things. If you are over near Shackleford Banks you might see
a wild pony accompanied by a Cattle Egret
.
Take a trip down the shore and walk onto the beach from one of the public access points. You will see some signs of
people enjoying the beach
, even setting up a shelter for their day on the beach..
The time of the day also makes a difference in what you see.
Just after sunrise, you might see runners, fishermen, and some dedicated shell collectors. Later in the morning the kids and their parents show up to enjoy the surf. In the evening, you'll often catch the fishermen again along with evening beach walkers.
We enjoy dropping by Fort Macon State Park which is pictured at the top of the post. We like to watch the boats come in from deep sea fishing. It is best done from the beach area that is away from the swimming area.
I love to watch the Hatteras style fishing boats cruise through the waves like they aren't even there. When we visited last Friday we also got to see someone fishing with a kite and another person doing a para sail trip in the distance.
As the sun started sliding down in the sky more people intent on fishing showed up.
It was another beautiful, bright day on the coast. I wish I could tell how the fishing was offshore by just watching the boats glide by.
Podcast