One of my favorite things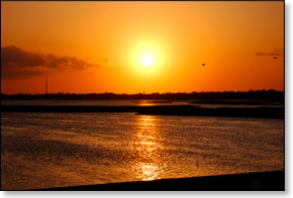 The photo sites that I maintain at
Picasa Web Albums
and
Flickr
should convince anyone that I love to take pictures.
I also have a site where maintain
my favorite sunrises
from our deck in Roanoke.
Since coming to the Crystal Coast last fall, one of my favorite spots for photos has been the bridge between Cape Carteret and Emerald.
I guess a little of what I find special about the photos is the challenge of getting them.
First you have to time your bridge crossing. Then I usually have to let traffic pass me just before I get on the bridge and be careful that no one is behind me before I stop.
Even with those precautions I can only get three or four shots with a fast camera so I have to work quickly while my wife watches for traffic. I have gotten some really nice photos including the one in the post.
I am looking forward taking delivery of our skiff so I can take sunset photos on the water while sipping a beer.
I think that qualifies as a great time especially if it is interspersed with some fishing.
I have gotten some really great photos other places such as down by Clyde Phillip's Seafood where I took this
sun-drenched Pelican
or at Emerald Wood's park where I snapped
this fantastic sunset
.
The beach is a great spot for
sunrise photos
if you can manage to get up early enough to beat the sun.
I also love to take pictures down by
the Point at Emerald Isle
near the intersection of Bogue Court and Inlet Drive.
This sunset
is a great example.
Still when I can hit the bridge at the right time, it is hard to beat. I have even managed to time it right for
one sunrise
.