More competition for the fish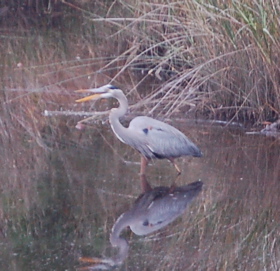 I spent most of the day writing, but I did take a few minutes for a break out on the deck to enjoy the warm but cloudy weather. I was looking down the canal behind the house and happened to notice a visitor. Based on his beak I would guess that he would be deadly on fish. I don't think we need any more competition in the canal for fish. I've already seen some river otters ( I think) and what looks like a Loon, and several other egrets or herons.
It's a good thing I enjoy just casting and that
Clyde Phillips
always has a good supply of flounder. I am hoping to get boat sometime after the first of the year, but until then I'm stuck on the dock or the beach unless I take my kayak out. The water might be a little cool for that, but it sure is
nice out in the river
. Once we get a boat, we will face the challenge of learning the White Oak which from the charts appears to be pretty complex.
That's a challenge I hope will be a lot of fun. The idea of spending a morning fishing minutes away from the house has great appeal. It's one of the reasons we spent so much time trying to find a reasonably priced home on the water. We ended up in a great spot in
Bluewater Cove
. So far there are no regrets.
We have great neighbors, the amenities are right on target for someone who enjoys the outdoors, and we are
just close enough to shopping and restaurants
so that we don't have to spend a lot of time on the road or in traffic. Then there is the
beach
just minutes away. It's pretty hard to compete with all that and reasonable prices. That in a nutshell is why we ended up in Carteret County by the White Oak River.
The White Oak is certainly a beautiful area. There aren't many places you can find a
sunset like this
.