Trattoria comes to Swansboro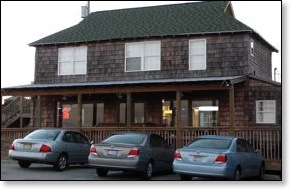 Late Sunday afternoon we were searching for new neighborhoods that might be of interest to real estate clients when we noticed the open sign in the building by Swansboro's park on the White Oak River.
We actually had stopped in a week ago when we saw them working on the Trattoria restaurant. At that time they told us they were going to have a limited menu before their scheduled grand opening on Friday, October 5.
Today when we saw the open sign, my wife immediately decided it was too late to go home to cook dinner, so we went to check out the area's newest eatery.
I ordered a bowl of Pasta Fagioli soup which turned out to be excellent especially when combined the delicious warm bread served with olive oil mixed with garlic. Also as an appetizer we ordered a single slice of pizza which turned out to a custom combination of fantastic olives, roasted red peppers, mushrooms, and sun dried tomatoes. It was excellent.
For our main course we had a few slices of Trattoria's White Pizza. The wonderful, crispy crust was brushed with olive oil and then covered with fresh Parmesan, Mozzarella, and Ricotta cheeses. We added spinach and Italian sausage. It was outstanding. I am looking forward to enjoying the rest of it for lunch one day.
We also got to taste a very decadent Cannoli from the dessert menu. Some of the other diners got salads which looked fantastic.
We are already confirmed customers and looking forward to enjoying our next meal at Trattoria. The prices were very reasonable.
It is always nice to get a new restaurant to enjoy during the winter.