Glorious day, magnificient sunset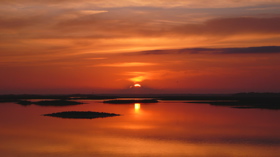 Now this is the kind of weather I have been waiting to enjoy. It was actually a little warm when I went to get the newspaper this morning. I know it was in the mid-sixties even over near the beaches.
I had a great day. I wrote a little this morning, had a relaxing lunch, and did some email correspondence. Then I went to the office and worked for an hour or so getting familiar with some MLS listings before coming home for a great bike ride. It was even warm enough to switch to shorts. Lots of people were outside working.
There were also plenty of daffodils blooming and none of them were
falling over from dampness
like they often are early in the spring in the mountains. The other great news is that I saw same bait fish in the channel behind our house. When I did a little casting after coming back from my bike ride, the small fish even boiled the surface around a plastic bait.
It's nice to see something alive in the water besides a heron, pelican, or duck. The sighting of bait fish means that there is hope for some real fish in the not so distant future. I guess I better start thinking about that boat.
After my fishing expedition, I decided to go take some pictures of the sunset. I gambled that the light would be right from the ramp in
Emerald Isle Woods Park
. As you can see from the photo, it was a pretty good gamble.
I posted a few of the shots that I took on both
Flickr
and
Picasa Web Albums
. Someone even piped in as I was posting and asked me the location of this photo. I also tagged it on a map in Flickr so people could see where the photo was taken. You can go to this
link
and click on the map link to right of the photo to see for yourself.
Bogue Sound can certainly do a wonderful job with a sunset. When I got back to my truck, there was an Emerald Isle Policeman parked behind it. He told me that he was getting ready to close the park down for the night. Fortunately I escaped before the gates were locked.
I grabbed some takeout Chinese at Golden China and enjoyed a feast at home. It seemed appropriate to have food from Golden China to go with the golden sunset.