Swansboro Sunset and the White Oak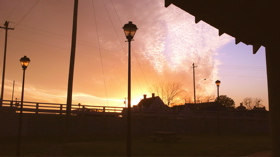 Though the weather seems to be reluctant to get warm, we cannot complain very much. The Washington, DC area had snow as I noted in a post I did on my
View from the Mountain blog
. Other areas are also still experiencing lots of really cold weather. It looks like we can expect some nice seventy degree temperatures early next week. With that in the near future, I'm not going to complain about some temperatures in the fifties since the snow isn't that far from us.
The local papers have articles about the planning process for the growth along the White Oak River basin. We know the growth is happening. I live in
Bluewater Cove
which is one of those new subdivisions along the White Oak. There are plenty more planned which as a
Realtor®
I believe are important to the economic health of Carteret County.
Still it is very important that we all work to not only keep more damage from happening to the White Oak but to also repair it the best we can. It's
too beautiful a spot
to let it be ruined by growth which doesn't factor in the health of the river. Te