Inviting water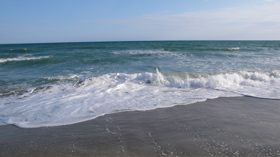 I am hereby declaring it beach season. This weekend I actually waded in the water as we walked along the shore after we parked at the
3rd Street Beach Access in Emerald Isle
. I thought it was going to be too cool but the water was not that cold for my hot feet.
Since our walk on the beach, we have had two really warm days so I expect things will improve until we get to this unfortunate cold snap that is headed our way for Easter weekend.
Yesterday marked the changing of the seasons for me. I showed up to work for our real estate caravan in tan pants as I have been doing since the first of the year. I was the only guy not in shorts. That is one mistake I will never make again.
I guess wearing long pants after April 1 in Coastal NC is against the rules. I am all for those rules.
When I got home at lunch and told my wife, she said that she might as well pack up my long pants since I will likely adopt the new business casual with any hesitation.
Sometimes you know that you have died and gone to heaven. To think I spent nearly twenty years wandering around Washington, DC in a suit. What was I thinking?
If you need help escaping from the rat race, call me. The advice is free if I can
help you find some property
.