December 6 Daily Record
06-Dec-2006 22:39 Filed in:
Weather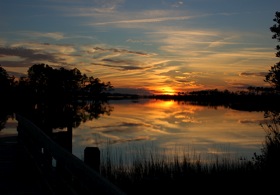 Today was one of my favorite kind of day. My college roommate Gus, who lives in Halifax, Nova Scotia, made my day by telling me that they had their first snow storm of the season. In fact Cape Breton Island got slammed with twelve inches of snow. Fredericton, New Brunswick, the closest civilization to our old farm in the Canadian wilderness saw mid-afternoon temperatures of nineteen degrees Fahrenheit. Here in Carteret County it was cool (down to thirty) this morning, but it warmed up nicely. I worked outside trying to get some Christmas lights up before our neighborhood Christmas party scheduled for this weekend.
As is normal for me, I had to make a trip to the hardware for some things I had forgotten last night when I went shopping for decorations at Lowes in Morehead. You can get to Lowes from western Carteret County in less than twenty minutes. In a few months the trip will be even shorter since Lowes is building a new home improvement store at the intersection of Routes 24 and 58. That will be under ten minutes from our house. I am hoping that our four area hardware stores still manage to survive. Since they are all pretty unique, I think the odds are in their favor. We have one more day of weather in the sixties, then we have our winter where we might not make it into the fifties. Fortunately the sixties are predicted to return on Saturday.