The fog is gone and the sun is back
Yesterday and early this morning all of eastern North Carolina and especially the Crystal Coast was beset with thick fog. What is surprising, is that this is the first fog that I have experienced since we moved to
Bluewater Cove
on the White Oak River. This is our fourth month where we have spent considerable time here, but this is first fog that I have seen. From my years on in Nova Scotia, I learned to live with the fog. Actually our mountain home in Roanoke, Virginia is often completely obscured by fog. I love to take
pictures of the sunrise
and sometimes I worry that I will get through the whole month of August without ever seeing the sun come up over the mountains. There's an old mountain saying that if you count the number of fogs in August, you will know how many snows there will be that winter. Fortunately that has never played out very accurately.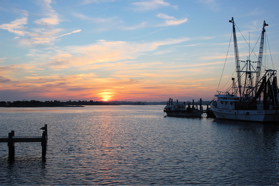 I am a pretty serious computer geek, so this morning I was very excited to find that the movie I created for a DVD of Bluewater Cove had successfully rendered and burned onto the DVD without any problems. I still have some more tuning to do on the project, but
iMovie HD
and
iDVD
which run on my dual G5 Power Mac generally do not let me down. I would love to move to HD format for my movies. I am sure Sony would like me to move also since that would be my fourth Sony video camera, but I cannot justify it right now. I just have to force myself not to look at the video being shown from the new Sony cameras when I am in
Best Buy
in Jacksonville or Wilmington. However, that HD SR1 looks mighty tempting. The way technology is, there will always be something better soon.
After a successful viewing my movie (it looked great on widescreen) and getting my Christmas cards done (thanks to my trusty
Dymo LabelWriter
), I decided to go for a bike ride. My old
Schwinn
is a little creaky like me, but I have outfitted it with a deluxe, exceptionally comfortable bike seat that I bought from the bike shop over on Emerald Isle. The cosy seat makes a huge difference in the amount of time I spend on my bike. Of course having some flat terrain for biking as opposed to mountains doesn't hurt either. In honor of the close to seventy degree weather I put on a short sleeve tee-shirt for my ride, but about half way through my ride I wished that I had also changed from jeans to shorts. I even worked up a sweat. I did switch to shorts when I got back so that my fishing experience on our dock could be as close to summer as possible. I borrowed my wife's extra strong reading glasses to put a new longer leader on my fly line. My rod, a relatively inexpensive
St. Croix
model, seemed to respond the change, the artificial flies dropped to the water a little more delicately
After sunning myself and practicing my casting (I'll call it fishing afterwards when and if I ever catch a fish from our dock), I needed to get those Christmas cards in the mail. Since Emerald Isle is a little closer, I headed over the bridge to beach. I was really surprised to find that there is a Post Office in the US that closes at 4 pm on Friday just a few days before Christmas. I guess it's a serious case of beach time. Unfortunately the stamp booklet machine wasn't working either so I had to drive the Swansboro Post Office. It's not like that's a long drive. I was more successful there. They were open until five and not very crowded for this late in the holiday season.
On the way back I pulled into the parking lot of Clyde Phillips Seafood to snap some pictures of the sunset. That's where I got the shot in today's post. From all reports we have several nice days of weather ahead of us. I had a couple of our upstairs windows open all day today and in fact until about 9:30 pm this evening. It certainly is a strange winter so far. More details over at my
View from the Mountain blog
.