Back to normal on the sound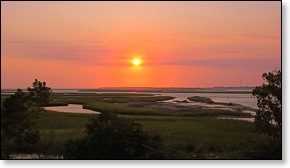 Today as we crossed the bridge over to Emerald Isle to enjoy a birthday dinner at Rucker John's, it felt like things are getting back to normal.
We had a great, reasonably priced meal and saw some more locals who are beginning to come out of evening hibernation.
There are actually still a fair number of tourists around, mostly those with very young kids or with no kids at all.
The weather has been beautiful, but the wind has been blowing more today that it was
when Gabrielle visited us
this past weekend. In fact there is a small craft advisory for the area.
I had hoped to attack some dollar weed in our beds this afternoon, but it was too windy to spray.
Yesterday we had a nice walk on the beach. The waters were
still stirred up but beautiful
. The water is still really warm.
We are really lucky here on the coast. We have had a reasonable amount of moisture so things are still wonderfully green.
All you have to do is add in a gorgeous sunset and some blue waters for a beautiful picture.
Not far inland close to Kinston, I heard that a forest fire had closed Route 70. That is pretty amazing since just a few miles away in Beaufort, they got over 8 inches of rain Sunday night.