Mistletoe on the mind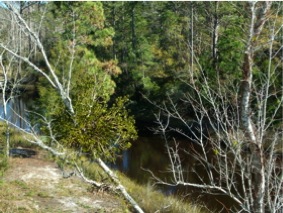 Certainly the cool weather that came riding in on the winds last night should be wintery enough to put anyone in the holiday mood. I drove over to Emerald Isle this morning to fill up my car. As I crossed over the bridge I notice the temperature was 29 degrees Fahrenheit even by the water. I posted a nice picture of the water that I snapped at my
Ocracokewaves blog
.
It is starting to be time for Christmas parties. There is one scheduled here in our subdivision Saturday night. Since I am without my better half for a few days, I will be doing the cooking for my contribution to the party. I guess it is a good thing that I have kept my hand in the cooking all these years. I probably going to do sausage balls and a
pimento cheese dip
. My oldest daughter is a member of a book club in Northern Virginia. I once made pimento cheese for them. Since it was a hit for a bunch of particular young ladies, I have some confidence that I will be up to the task.
This morning's picture is of mistletoe that is visible from our upper deck. I have been eyeing that large clump of mistletoe for awhile. As a youngster in North Carolina back in the fifties and sixties, one of our jobs was to bring home some mistletoe for the holidays. As I remember we shot it out of the trees with our trusty twenty two calibre rifles. I am a little older and wiser these days. I might try to get some with my surf casting rod.
I did a little Internet research on mistletoe. The
article
that I found had some interesting information. According to the author, mistletoe is actually named after "bird droppings on a branch." Also the proper etiquette for kissing a girl that you should remove a white mistletoe berry with each kiss. It your mistletoe runs out of berries, you have to stop kissing.
According to the weather reports, this brief interlude of cold weather is not going to last long. We should start warming up by tomorrow and by the middle of next week, temperatures should be in the middle sixties. This morning it was 28 degrees when I checked our back of the house thermometer. I am ready for winter to be over.