More than just beaches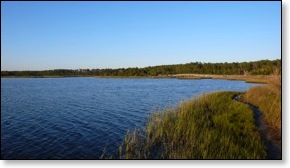 As we finally start to see some cool weather, we can turn our attention to something besides the beaches.
That doesn't mean we won't be getting our feet wet in the surf.
It just recognizes that the weather lets us enjoy some other areas that might not be as much fun in warmer temperatures.
One of those things would be area trails.
We tend to hike the trails in fall, winter, and spring.
Just before sunset last night we went over the Cedar Point part of Croatan National Forest. There are some great trails there.
We only had time for the shortest, but we still had fun.
We only saw three or four mosquitoes so they must have sprayed in the area.
We have had more mosquitoes than in recent years because of some heavy rainfall in August.
We didn't come away with any bites last night perhaps because of the strong breeze.
The scenery was fantastic. The water is about as blue as it will get in a black water river like the White Oak.
You can get more detailed pictures (taken in the winter) of the trail at
my accessible trails site
or see some more pictures of the trail from last night at
my Flickr site
.
One of my favorite shots was one that I have called
Blue Waters
.