Christmas is drawing close
17-Dec-2006 22:33 Filed in:
Work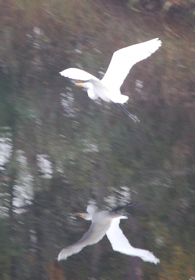 This great picture was taken Friday morning behind our house. The older you get the faster the holidays seem to come. At twenty one bird watching didn't make much sense. Now it seems perfectly logical. I was back down to Wilmington today for more post licensing real estate training. Doing a
new career at fifty-seven
is not unusual, but it is a challenge. Getting up at 5:45 am for a drive to weekend classes in Wilmington has not been easy. It's a long day, and staying awake through a full day class takes some work. I am glad we will be finished well before Christmas.
There was fog on the road early this morning as the air was colder than the water. In fact I saw a lot of fog on Route 17 after I went through Jacksonville. Later as the sun burned the fog off, it turned out to be a wonderful day. On my way back home, I decided to take another ride on the new US 17 by-pass. I had taken it the night before and followed 17 over to 58 which took me home. It seemed to take maybe five minutes longer.
That trip had prompted me to get out my maps as I often do. As my post, "
Wanderlust of the soul
," indicates, maps are an addiction to me. The challenge of finding a better, shorter way, is always in the front of my mind. It seemed to me that there had to be a shorter way from Jacksonville to
Bluewater Cove
where we live. My normal route to Jacksonville goes through Swansboro and up route 24. The maps just didn't quite connect in a way that assured me that I could easily find way through the back roads from Jacksonville in the dark. Actually the Onslow County map did not even show the Stella road going all the way across the White. An incomplete map can never stop a real explorer so Sunday night I got brave and turned onto Piney Greene, which I took to Old 30 Road, which I followed to Smith Road which led me to the Belgrade-Swansboro Road. From there I turned onto the Stella Road which did cross the White Oak in fine style at the new bridge at Stella. There was a sharp left turn after the bridge and it was a quick two miles to Route 58. I actually made it back from Wilmington in under an hour and thirty minutes which was nice for a change.
I am looking forward to following the route again in the day light, It is nice to know that there is a back way to Jacksonville. It looks like Monday is going to a shorts and scandals day. I found out one other thing today that made me happy that we picked Carteret County as our place to settle. It seems that a huge
container port is being planned
for Southport. It will be bring jobs, but people were suggesting that it might also bring 8,000 trucks a day. I just left the Shenandoah Valley to get away from
Interstate 81
. I would have been really upset to find 8,000 trucks a day on my local roads.