Valentines Day temperature change
14-Feb-2007 22:39 Filed in:
Weather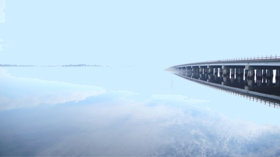 We have had some really warm weather recently. Monday and Tuesday, the temperatures were in the mid to upper sixties. With those temperatures in mid-February, the Crystal Coast was an even nicer spot than usual.
I snapped the picture to the left of the Swansboro bridge disappearing into the fog on Tuesday afternoon. I think the air was so warm that fog was forming just a few feet above the surface of the water. It made for an interesting picture. Earlier in the morning the sky had been a beautiful
Carolina blue
. The surface of the water leading to the White Oak River was also
dead calm
.
Later in the afternoon, we headed over to Emerald Isle to preview homes which are listed by
Bluewater GMAC
, the firm where I am a new Broker. We have some great houses listed over on the beach. This is
the view
from the upper deck of one of our listings over by the point at Emerald Isle. Now is a great time to be looking at beach property. Mortgage rates are low and many people are still waiting to jump back in the market. There is also plenty of inventory to view. The best properties always go first so don't wait if you're interested.
I have been surprised by my how many homes are rented this time of year. I think it is a great time to be at the beach, but I guess I thought I was the only one with that thought. I have had to wait to view a number of homes because they were occupied with renters.
I love all the small restaurants here which typically have far better food than your average chain restaurants. Tonight my wife and I had a special Valentine's dinner at Floyd's 1921 on Bridges Street in Morehead City. It's only 20-25 minutes from Cape Carteret. I had the Prime Rib, and Glenda, my wife, had the baked stuffed Salmon. Everything we ate was delicious. The service was excellent. We'll be going back, and I'll write a review once I've been a few times.
The weather will cool off over the next two days. We may even struggle to get few degrees about forty Fahrenheit on Friday. Still, we can't complain very much since the
Valentine's Day Blizzard of 2007
was just some nighttime rain here on the coast. Some rain is a lot better than
twelve feet of snow
.