Summer afternoon in October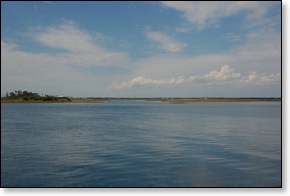 We drove down to Beaufort recently to catch a glimpse of
Blackbeard's Cannon
which was raised from the Queen Anne's Revenge on Monday.
The cannon which you can see from clicking on the link was heavily encrusted with sea stuff for the lack of a better term.
It was quite the event with news media prowling the area.
I ended up being almost as impressed by the warm weather which came just after I read about the
Arctic ice disappearing
at a record rate. Seeing all these eighty degree temperatures in October has to make you wonder about climate change.
Still it was a beautiful day, and we always enjoy going to Beaufort for a visit so a good time was had by all.