A Lobster Feast at Saint Francis by the Sea
20-Oct-2007 22:47 Filed in:
food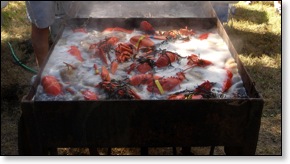 A few weeks ago we sampled our first area Lobster Feast at Swansboro. The lobsters were delicious, and it was also a chance to meet some new people.
We were happy to find out that the September Swansboro Lobster Fest is followed each year by the Saint Francis by the Sea one in Salter Path. They both done by Episcopal Churches as fund raising events.
We really had a wonderful time at the Saint Francis event today. Everything was very well organized, and they even had plenty of parking. There couldn't have been a nicer day to have this.
I wonder if anyone is having one in November?