Impressive Waves
09-Apr-2007 23:29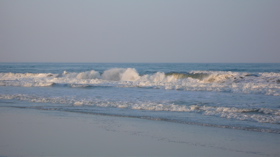 I snapped this picture on March 22 during some pretty good surf. I think almost all of us can stand and watch the surf for hours. If you give us a chair we will be there for days. I believe April 1 & 2 when I went for beach walks and actually got my feet wet for the frist time this year. The last weekend I visited Roanoke, Va. which is our other home besides Cape Carteret.
Our grass was in serious need of mowing. I spent
most of Friday afternoon getting the yard in shape
for the kids to join us for Easer.
After that I spent some time wondering about "
What makes me happy
." Then I started thinking about whether it is the
mountains or coast
where I want to plant my roots. That's a pretty hard to decision to make when you are surrounded by beauty in two different areas. This
sunrise in Roanoke
this weekend was impressive, but I don't like it any better than
this coastal one
. This time of year, there is lots of beauty to go around including some nice
Dogwoods
,
Flowering Cherries
, and
Redbud trees
.