November 22 Daily Record
22-Nov-2006 21:25 Filed in:
Weather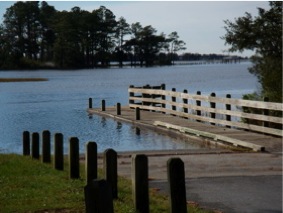 This morning the rains stopped, and the sun came out. It was great to have the weather clear before the Thanksgiving holiday.
This shot was taken at launch ramp in Croatan National Forest near Swansboro on the Carteret County side of the White Oak River. It is one of my favorite places to watch the sun set over the White Oak River.
It would not have taken much to float your boat today. The water was way up the ramp.
The high temperature at our house was 67 degrees Fahrenheit. That's not bad for the day before Thanksgiving.