Snow flurries confirm winter 11/21/08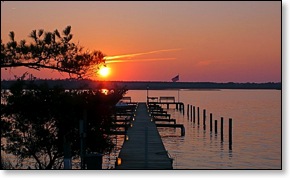 So much for the pleasant weather. The Canadians have betrayed us.
Obviously there is a serious border leak. We have actually seen snow flurries here on the coast in November.
This is a serious setback to my fall fishing plans. As much as I love the water and fishing, I do not think I can be lured into a boat when the temperatures have barely managed to get into the forties by noon.
As a veteran Canadian, I know what to do about cold weather. You turn on the fireplace and curl up around it. There are few other choices as long as the wind is blowing.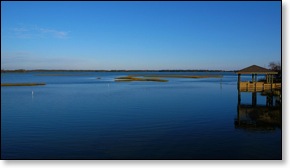 Earlier in the week, the White Oak was gorgeous as the temperatures managed to get to near normal values for the time of the year.
Those mid-sixties would seem like a heat wave now.
That same afternoon we enjoyed
a drive down to Hammocks Beach
. I am still playing with high definition video so I took some more and
posted it on YouTube
.
What I am finding is that some video does well with the inexpensive HD Video camera that I have while other video is not as good. I thought my
docking
and
kite
movies turned out better than the
Intracoastal
one.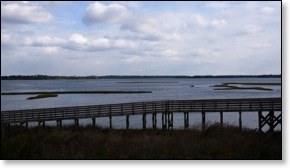 It is not surprising that this later in the week picture of the White Oak River near Swansboro looks more winter-like than one taken earlier in the week.
That is just the way that things look right now. At least the cooler than normal weather will put us in the mood for the upcoming holidays.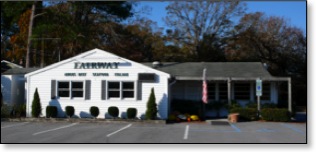 One of the ways to handle the colder than normal weather is to enjoy some comfort food.
My wife and I enjoy eating at the Fairway Restaurant. It is on Highway 58 on the left (headed north) just south of the Taylor Notion short-cut.
Chris, the owner says they are planning lots of specials this winter. We have enjoyed their chicken pastry lunch special ever since we moved here.
I am particularly fond of their new thirty-five cent wings on Thursday special. Some nice warm food is a good way to ward off this colder than normal fall.
This evening we stopped by T&W's Oyster House, I met Earl, the famous previous owner, who has returned to T&Ws. All I can say is that my fried oysters were delicious.
There were four guys working the oyster bar, shucking oysters as fast as they could go. Though they have only been back open a short time, they planned to go through eight bushels of oysters during the evening. We had seats right by the fireplace.
Additional information on the area, especially upcoming events, can be found at the new
Crystal Coast Electronic Village site
.
And in the you might be interested department, I just did a post on Crystal Coast living entitled,
The Beach Trip
, and another at View from the Mountain called
We are frozen tundra
.
My most recent previous post (11/11/08) from this site is at my
Coastal-Mountain site
.
If you missed the post from a few weeks ago (10/29/08), it is available at
another of my websites
.
Finally I just did a virtual tour of
an oceanfront home that I have listed
. I put the virtual tour up on
YouTube
. Click "watch in high quality" if you have the bandwidth.
It never hurts to dream, and there is some short video of the ocean embedded in the tour. The ocean will take your mind off your troubles.