Fourth of July Fun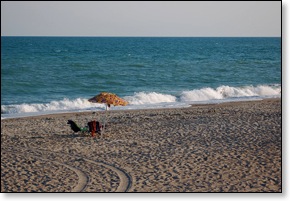 The Fourth of July is finally here, and it looks like the tourists have come in force.
Yesterday we decided to brave the traffic. We left home at 5:10 pm and headed for the heart of Emerald Isle.
The trip to the intersection of highways 24 and 58 just before the Emerald Isle bridge took a standard five minutes.
We could see that the bridge was bumper to bumper heading to the beach.
Being the brave locals that we are, we forged on. It took us a total of eighteen minutes to make it to "downtown" Emerald Isle.
The big traffic jam had added ten minutes to our trip. My Northern Virginia son gave me a really hard time when I mentioned the big Emerald Isle traffic slowdown.
I did
a slide show of our trip
across the bridge and some images from the last few days.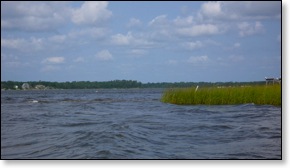 We have been traveling and just got back this week which is why I haven't had any updates for a few days.
We managed to do 1600 miles or so in the week we were gone, but I think that I have finally recovered.
The first picture on the page is the beach at the Eastern Regional Access on July 3rd where we headed after our dinner. We certainly did not find any crowds there at 7 pm last night.
We had dinner last night at Ballyhoo's and were immediately seated for our favorite meal for two. I don't think immediate seating was in the cards for the folks waiting outside Jordan's.
We had grilled grouper sandwiches, steamed veggies, a dozen wings with Thai hot sauce, and a few beers to washing everything down.
The price before tip was under $30, and Sam's crew always does a great shop of taking care of us.
The second picture I snapped this morning when I went kayaking on the White Oak.
It wasn't exactly the nicest kayaking since there were some waves and wind. It didn't take me long to head into our inlet and do my required fishing in calmer waters.
The only thing that I caught was a shrimp that got into my kayak somehow. I don't think shrimp jump very high so maybe I splashed it in with my paddle.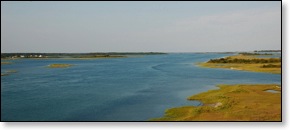 This picture of Bogue sound looking east from Cameron Langston Bridge was taken yesterday afternoon in the stop and go traffic to Emerald Isle.
It is hard to appreciate the true scale of Bogue Sound from the tiny image so I posted
a larger image at this link
.
The weather this weekend is pretty typical of July with lots of heat, but we do seem to have more wind than we did last July.
I was in Clyde-Phillips Seafood July 3 getting some ocean treats for lunch today, and Jimmy, the owner, told me that the boats had pretty well stayed at the docks while we were gone.
I wanted some grouper for this weekend, but I had to settle for flounder since they had run out. Still the
grilled flounder and some soft shell crabs
made a nice lunch plate for us. It didn't hurt that we had fresh
shrimp for an appetizer
.
After that lunch the annual Bluewater Cove Fourth of July Barbecue might be an afterthought. Still I am looking forward to it. My wife is fixing her famous Vegetarian Baked Bean recipe.
Our friend Jerry reported that his wife is making potato salad. All I need then is the hamburgers that the homeowners association is providing, and I will be all set.
I am hoping
the parade is as much fun as it was last year
. I don't know if we will brave the Emerald Isle crowds to see the fireworks.
I have
a pretty good slide show from last year
. It might be easier to watch the ones here in the subdivision.
Actually I am ready for some relaxation. I did three miles on my bike this morning, did a few laps in the pool to cool off, and then kayaked for two hours.
Then I took the skiff out for a few minutes so even taking into account my afternoon nap, I suspect I'll skip the big show on the island and be happy with our local fireworks.

Coastal Paradise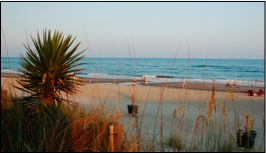 The North Carolina coast has been one of my favorite spots for well over fifty years.
Our area, the Southern Outer Banks, is a wonderous place to live and one of the best kept secrets on the east coast.
I have posted an article about
why Carteret County turned out to be the right spot for us
.
There is another one where I talk about
the small town feel of the area
and
the things that I love about Carteret County
.
I am thankful to
those who came before us
and helped make this such a great place to live. I am also one of those people who has lived in the mountains and finds
life on the coast
near the beach a wonderful experience.
Our spot on the Crystal Coast is one of the least crowded beach areas in North Carolina that has year around inhabitants and a full range of services.
Since I am a Realtor®, I have
a number of listings
posted for those interested in browsing the property available in our end of Carteret County. It is a great time to buy. You can be certain that
I will work hard finding you the right spot
.
If your fear of hurricanes is keeping you from considering Carteret County as a spot for a second home or retirement, you might want to read
my post on hurricanes
. I find the risk here acceptable and something I am willing to take in order to live in one of the great spots of North America.
Pictures are a great way to view our area, and I have created
a web page
dedicated to slides shows and images from the Southern Outer Banks. A few weeks ago we visited Tryon Palace, I did
pictures of the gardens
which have their own pages.
If you want a quick tour of what it is like to live on the coast, check out this link to
a brief tour of my first year
on the coast or you can check
my posts on Carteret County this year
.
I also have another web page with some of
my favorite posts and recipes
. I even have a special
Carteret County blog
done using a Macintosh which offers more pictures and thoughts using Apple's .Mac service.
I have some
web galleries on Mac.com
for those of the Macintosh persuasion.
I try to post favorite photos regularly. One of my favorites is called
morning waters
. You can also catch
a selection of my photos shown by WITN's Marvin Daugherty
.