Great weather returns February 8, 2009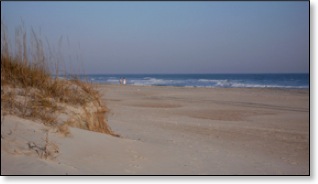 Finally we are back to the right kind of winter weather.
Warm February days helped us make the decision to move to the Crystal Coast.
We were surprised to see today's high temperature get up to 75 degrees Fahrenheit.
The memories of
the challenging weather
we have seen for the last few weeks vanished.
Were those
icy waters
the other day just a bad dream? The cold weather had me working hard to
focus on warmer times
.
Yesterday was a great day, and today after church I washed both of our vehicles. It was warm enough at home in Bluewater Cove to wear shorts.
I made the mistake of thinking that it would also be that warm over on the beach. I got over there, and people were wearing long pants and hooded sweatshirts for the most part.
There were only a few brave souls wearing shorts like me. When I got back in the car, I saw the temperature was only 55 degrees Fahrenheit.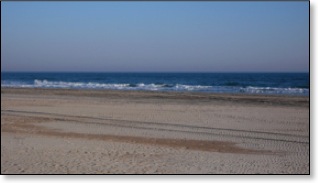 That was a full twenty degrees cooler than it was in our driveway on the mainland just six or seven miles away.
I managed a short bike ride, but the best part of the day was the nap in the sun in my chair on the dock after the vehicle washing.
I took a few pictures of the day and
posted them on on the web
.
A day like today restores your faith in Carolina weather. With this winter there has been some talk of global cooling, but I have seen
an article disputing that.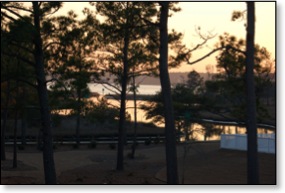 This afternoon as the sun was going down, the colors were fantastic from our deck. The pinks and blues I hope signal a change in the weather.
Anyway it was very peaceful in Bluewater Cove.
I have been uploading some pictures to Google's Panoramio. It allows you to
place photos on a map
.
The photos that are in this post are always very current. For example all of the photos on the page have been taken in the last two days.
It is one of those weird things that happens to writers. I have a hard time writing unless I have new photos.
Speaking of photos, this past week I gave a short seminar at our church on getting photos and movies from the shoebox onto the web or DVDs.
If all goes well I hope to give the seminar publicly in a few weeks. If you are interested in scanning, making moves to preserve family moments, or just in taking pictures watch this space for more information or watch for an announcement on
the Crystal Coast Electronic Village
.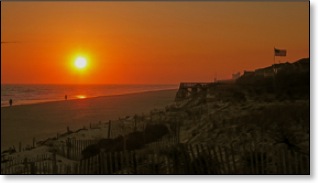 It has also been nice to see some wonderful beach sunsets like this one taken at the Iron Steamer Public Access in Pine Knoll Shores.
There is nothing as beautiful as the combination of sun, sand, and blue waters. The picture was taken on Saturday afternoon.
We had driven up to Morehead City for a taste of the Chocolate Festival, then taken a quick trip over to Beaufort, and come back down the beach route instead of Highway 24.
This time of year I prefer driving down the beach. There is no traffic and plenty of opportunity to stop for pictures. After taking the first sunset picture we drove a little farther down the beach.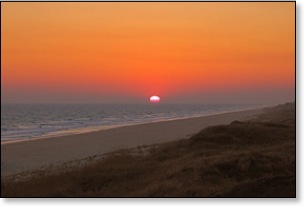 I hurried out the ramp at the Roosevelt Beach Access in Salter Path to catch the sun slipping into the waters. It was a spectacular sunset in my book.
I enjoyed the sunsets more than the Chocolate Festival. Fortunately it was for a good cause. I did post some pictures of
the Chocolate Festival
so you can see for yourself.
The ride was well worth it anyway. I love the live oak trees around the Carteret Community College, and I always enjoy visiting Beaufort.
I also posted some pictures of
the trees and our quick visit to the Beaufort docks
.
We did manage to visit
Riso's, one of favorite local restaurants
, this week. The occasion was saying goodbye to one our Army friends who had just returned from Iraq. He is now being sent to Germany for three years. We will miss him and his wife.
I did see something last week that I cannot remember seeing in a long time. It was
a politician admitting a mistake
. Whatever your party affiliation, that has to be a revelation.
As I often say, I moved to the Crystal Coast to get away from the Washington Beltway, and I am glad that we made that move.
Even the recent cold weather will not shake my faith in the way of life here on the coast.
Today after church we enjoyed another church meal. Our church has one each month except during summer. It is a great way to meet some wonderful people and enjoy some nice home cooking. There was even fried chicken there that reminded me of
my mother's fried chicken
.
Here is to better weather for the next few days. You can read about the almost forgotten recent cold and snow
at this link
.

Why we love it here?

It is hard to say that any place is perfect. There always a balance between what you like and what you don't like. That also changes as you age. At one time I was close to homesteading in Newfoundland.
Today I would steer you to my articles,
Ten ways Carteret County met our needs
,
Why I love living in Carteret County
, and to the
Crystal Coast Electronic Village Homepage
as answers to why we have chosen this area.
From that reading it is easy to understand why we enjoy living in a small subdivision called
Bluewater Cove
near
Cape Carteret
. It is what we were looking for in a place to live. It's close to services and close to the beach but not on the beach. We have a dock behind the house and are close to some
great trails
. I can ride my bike in the neighborhood and not face a lot of traffic.
I also use my kayak on the White Oak River and have learned to love
exploring the river and surrounding waters
with our skiff.
This area also has some great festivals like the
Newport Pig Cookoff
, the
Emerald Isle Saint Patrick's Day
, and the
Swansboro Oyster Roast.
We were also impressed with the
Emerald Isle Christmas Parade
.
It is a friendly area with a great future. So right now it is the spot for us. I often write about the area in my other websites. If you are a very avid reader, you might find some content on multiple sites, but usually the content is fairly specific to the sites.
View from the Mountain
Ocracoke Waves
Crystal Coast Living Blog
Crystal Coast Blog 09
Crystal Coast Blog 08
Some archived articles
More Crystal Coast Info