Fall takes a break 10/29/08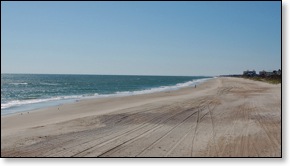 The weather finally caught us with us and the rest of the East coast. On Monday afternoon of this week a front came through.
We had great fishing that afternoon, but the next morning temperatures had dropped to just over forty degrees and struggled to get to fifty-nine degrees by afternoon.
This morning we were just under forty degrees, but things are looking great for next week when the forecast has a long string of days with the temperature rising to the mid-seventies.
If you want a little more perspective on the weather I did
a post on Crystal Coast Living
about our early taste of winter.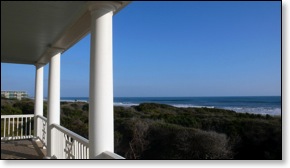 Two days of cool weather does not change the fact that this is
a great time of year to visit the Crystal Coast
. You might be lucky enough to find a view like the one from this front porch.
There is
plenty happening in November
along the coast.
While this past Saturday was rainy and windy with
some high water
, the weather began clearing by the afternoon just in time for us to enjoy our
lobster dinner
at the Saint Francis by the Sea Episcopal Church.
After our lobsters, we drove up to Atlantic Beach to catch the annual Kite Festival, but we caught up with the rain which had dampened the event.
We made another try on Sunday afternoon and were more successful. In fact Sunday was such a memorable day that I wrote
a post about it on my View from the Mountain blog
.
Lately I have had a lot of fun exploring
my home waters
by kayak and skiff. While I am trying not to be over confident, I am really starting to enjoy the White Oak River and Bogue Inlet. I have lots of favorite places now.
The Intracoastal Waterway has been packed on weekends with spot fishermen. I suspect it is hard for some of the larger boats to make their way through all the small boats which sometimes anchor right in the channel.
One trip over the Emerald Isle bridge we could see boats stretching as far as the eye see on both sides of the bridge.
My spot fishing has been spotty, but we have caught a few. I even kept one to try out a new cooking method which seems to work great and save a lot of cleaning.
Mostly I am a catch and release fisherman, but once in a while I keep a few for the pan. There were
a lot of surf fishermen
on the east side of Bogue Inlet Pier this morning. I suspect they were catching something, but I did not have time to check it out.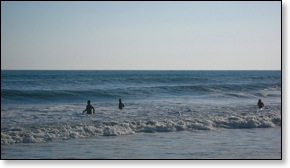 On this past Sunday afternoon we stopped by the Iron Steamer beach access near Pine Knoll Shores, and were surprised to see some folks swimming . They did not stay in the water long, but they were definitely in it.
One nice thing that has happened recently is the drop in gas prices. Tonight I saw regular gas priced at $2.58 per gallon at the intersection of Coast Guard Road and Emerald Drive.
Maybe the drop in fuel prices will make it a little easier on our shrimp fishermen who have been
challenged by high costs this summer.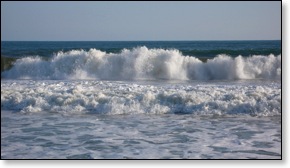 The weekend winds did whip up the waters and bring some big waves to the beach, but I only saw a few surfers around.
Most of our days have been blessed with clear skies. That has made once again for some
fantastic sunsets
. I even wrote a post about
the sun in my eyes.
This time of year the sun can be deadly driving west on Route 24 near Cedar Point.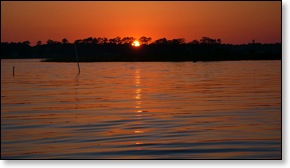 I much prefer sunsets from kayak than from the car. This one was taken just outside the entrance from the White Oak River to
Bluewater Cove
where we live. It is about a five minute paddle from our home. I posted some more pictures of that in my
MobileMe albums
.
(If you are using one of the latest version of Internet Explorer and Vista, you might have trouble viewing the pictures. Everything works fine with
Firefox
which you should be using anyway)
Something special happens when the sun hits
our crystal clear waters
which I suspect are the reason the area is often called the Crystal Coast.
This week Carteret County
reminded me of Canada
. It was not really the cool, clear weather that clicked with my memory. I think all the time that I had on the river and wandering
some trails
reminded me of how quickly in Canada you could go from civilization to wild country.
Our county
is not very wild even with the 158,000 acres of Croatan National Forest, but it is a place where the out of doors is so close that it is pretty easy to spend lots of time there, and that is what I have been doing for the last few weeks.
Nova Scotia has nothing on us when it comes to being close to the water. In other notes, the local oysters are available, and we tried the new White Swan Restaurant in Morehead City recently. We enjoyed our meal. I will be back for some more of their Brunswick stew.