Summer easing away, Sept. 7, 2009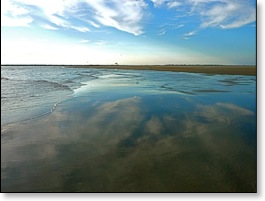 I hate to admit it but summer is definitely slipping away from us.
The hours of sunlight have declined. Memories and pictures like this one from the Point carry me through the winter.
Both the air and the water have cooled somewhat, but fortunately winter is still months away, and we should see temperatures in the eighties this week.
We could have used some of this cooler air in August which was a very warm month, but all that heat made it a great time for visiting the beach.
By mid-August the heat had gotten to us. We headed away from the beach and spent a few days in the mountains near Roanoke,Va. We did get to enjoy
a nice mountain morning
or two.
It was not long before I was
missing the Cameron_Langston Bridge
to Emerald Isle.
My love for the beach got me back here quickly, and I had
my toes in saltwater
not long after arriving back on the coast.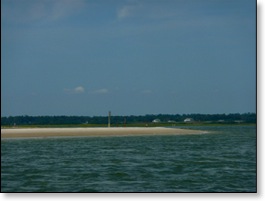 The heat has also made for great
pool weather
if you can find a pool where you will not cook yourself. The one in
Bluewater Cove
usually gets a nice water breeze which helps.
It has been a challenge to go boating because of the heat and winds. Only recently have things started to look up for fishing and boating.
The extra humidity that we picked up in August was just enough to keep me off the water. Loading and unloading the boat is a hot job even on nice days.
In fact I took almost six weeks off from serious boating. I ran the boat down the river the 3.6 miles to Swansboro a few times, but there were no full days on the water until
this past Friday
when I snapped this picture of the changing sands between the Point and Hammock Beach.
Considering the weather this Labor Day weekend, I am glad that I made the effort to get
the skiff on the water Friday
and to
spend some time in the kayak on Saturday
.
I would guess that no boats made it on the water actually on Labor Day. There was far too much rain.
Actually the weather until today has been pretty nice on the Crystal Coast. However as we found out, getting directly in the path of a hurricane is not required before massive amounts of sand are moved.
Somehow Hurricane Bill which missed us by hundreds of miles still pushed enough water our way to make some modifications to the Point where we ended up with a
Ramp to Nowhere
.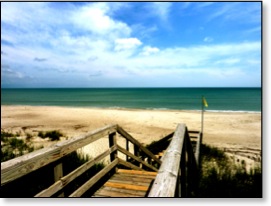 Surprisingly after Bill we kept checking the other beaches for additional damage.
Other than the slope changing at Third Street beach, we really did not see much damage beyond what happened at the Point. Still there is no doubt in my mind that
we need to respect the ocean
.
Considering there has been some loss of life in the hurricane stirred waters, I realize that there is a whole lot more to hurricanes than
foamy water
even if they miss us by hundreds of miles.
Still Hurricane Danny fizzled out pretty quickly. By the time we were over on the beaches, there was almost no wave action as you can see from the picture just above and to the left.
Because schools have started, the beaches have not been very crowded. I know we have seen good rental crowds, but with kids back in school, we are definitely short a few sun worshippers.
The cooling temperatures have signaled a change in the season. The sulphur butterflies have been coming through the area. I managed to get some great pictures of
our neighborhood white herons
and even
a green heron
.
With an increased temperature differential between land and water, we have seen some pesky winds.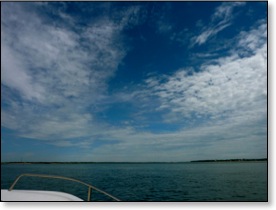 However, some things are worth waiting for and boating on the Crystal Coast is definitely one of them.
Just being able to spend
a day in the boat last Friday
has refreshed my soul. We caught lots of fish, but there was nothing to write home about in the batch.
We were just catching them for fun anyway, and the scenery at least in the morning was hard to beat.
Just being out on the water with the wind and sun on your face will carry you for a long time.
If you add a few fish on the end of your line, the mood enhancement lasts for weeks.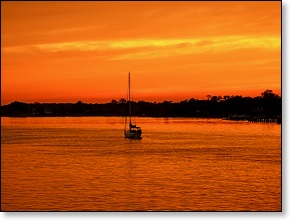 It has been a great summer despite a little heat and humidity. When you have the opportunity to see a sunset like the one to the left, how much can you complain?
Summer was so thoroughly entrenched in my mind by the end of August that I wrote a post entitled,
You can't see September from here
.
Unfortunately September has finally caught up with us, but it could just be the beginning of a great fall.
Maybe if I keep looking at
great sunsets
I can delay the passing of October and November a little.
Actually fall is usually my favorite time here. You can give up
mowing the lawns a little early
because our centipede grass only grows seriously in the summer.
Usually enough of the heat is out of the air, that you can even mow in the middle of the day if you have to without worrying about a heat stroke.
The
waters are sometimes quieter
, and the fish start running. If
the amount of bait in our inlet
is any indication of the quality of the fishing this fall, we should have some fun.
With some luck with the weather, we will find out soon what kind of season that we are going to have.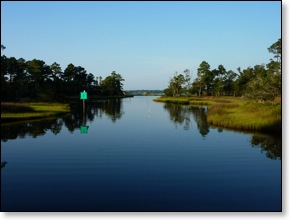 A good fishing season following a great beach summer just makes the decision to put down roots here even easier.
Then there is
living on the water
which is something I appreciate every day.
I feel blessed to look out my window and see the beautiful waters of Raymond's Gut and the White Oak River. It is even more special knowing that we are
making some great family memories
here.
Whether I am updating my
homepage
or have my nose to the grindstone on real estate, the ability to glance at the water is a real treat.
I even enjoy taking our cat for a walk on the deck because I get to sit on the back steps and stare at the water while he pretends to be a beast of the forest.
We both end up getting something from his little time outside. The sun on my face and the smell of the water is enough to perk up even us old guys.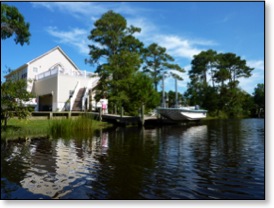 Besides being able to look at the water, I value most of all our ease of access to the water.
With a skiff hanging on the end of the dock and a kayak on the bulkhead, easy water access lets me work hard and still have time to enjoy the water.
Living near the water is not the only thing great about this area but it is
number one in my book
. I also value the many community events that we have in the area.
As summer ends, we will get to enjoy a number of those events.
We just finished
a great music program and dinner for visitors
at our church, Cape Carteret Presbyterian.
We have
plenty more events
coming up this fall, like the
Episcopal Lobster Dinners
(watch for dates),
the Mullet Festival
, the
NC Seafood Festival
and
Beaufort's 300th birthday party
.
It should be a great fall.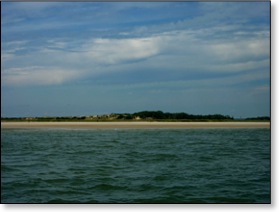 There are still some great beaches just waiting to be found this fall. I know that we will have a great time this year.
I have spent a lot of time figuring out where to fish this fall so I plan to take advantage of that.
One of my goals is to catch and release a nice red drum. I have just planted my second crop of tomatoes. I am hoping to have tomatoes into December.
After
the Labor Day deluge of rain
, I think we are due some nice weather.
I am planning to eat some Episcopal lobsters and to taste the
Dungeness crabs at T&W's
one more time before I get serious about oysters.
Fall also brings the anniversary of
our community website
which we expect to get some serious traction this fall. We even have a new theme. I think it looks great.
Of course after I have enjoyed fall at the beach, I will head to the mountains and try to capture some of those fall leaves.

Why we love it here?

It is hard to say that any place is perfect. There always a balance between what you like and what you don't like. That also changes as you age. At one time I was close to homesteading in Newfoundland.
Today I would steer you to my articles,
Ten ways Carteret County met our needs
,
Why I love living in Carteret County
, and to the
Crystal Coast Electronic Village Homepage
as answers to why we have chosen this area.
From that reading it is easy to understand why we enjoy living in a small subdivision called
Bluewater Cove
near
Cape Carteret
. It is what we were looking for in a place to live. It's close to services and close to the beach but not on the beach. We have a dock behind the house and are close to some
great trails
. I can ride my bike in the neighborhood and not face a lot of traffic.
I also use my kayak on the White Oak River and have learned to love
exploring the river and surrounding waters
with our skiff.
This area also has some great festivals like the
Newport Pig Cookoff
, the
Emerald Isle Saint Patrick's Day
, and the
Swansboro Oyster Roast.
We were also impressed with the
Emerald Isle Christmas Parade
.
It is a friendly area with a great future. So right now it is the spot for us. I often write about the area in my other websites. If you are a very avid reader, you might find some content on multiple sites, but usually the content is fairly specific to the sites.
View from the Mountain
Ocracoke Waves
Crystal Coast Living Blog
Crystal Coast Blog 09
Crystal Coast Blog 08
Some archived articles
More Crystal Coast Info