September in sight, August 14, 2009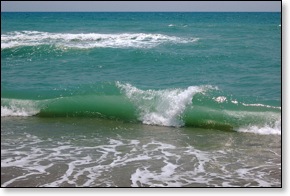 There has been a great run of weather for
enjoying the beaches
.
Unfortunately that fantastic beach weather has been washed out since Tuesday afternoon when we got
3.5 inches of rain
.
I joked on Twitter this morning that I could
trawl for shrimp in my front yard
, and that was before it started pouring rain at 10:30 AM.
Normally you get a
great view from our deck
, but right now it is raining so hard that the river has disappeared.
Those beautiful blue skies and perfectly colored water of this past weekend and Monday are just a memory.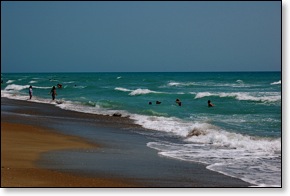 Lots of people managed to get out to
enjoy that nearly perfect beach weather
, but it was
hot enough to make me hurry across the sand
.
This upcoming week is the last week before most of the North Carolina schools start so it is going to be a busy weekend here on the coast.
The good news for our visitors is that after today, the weather starts improving. Next week looks like it will mostly be sunny.
We really cannot complain very much about the beach weather. We have had some
great times on the beach
in spite of real estate business picking up to the point that I have been very busy in August.
There have been far more people looking at properties than we have seen for a long time. Prices must be pretty close to the bottom since things are selling.
Last night when I was updating my real estate site, I was surprised at
how many more properties we have below $200K
than we had three years ago.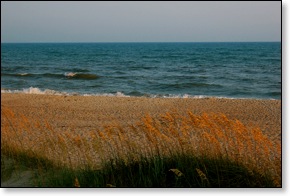 It has also been nice to see
some new construction happening
. Especially since it is in
Bluewater Cove
where I live.
Last night we attended
a formal ribbon cutting for Cannonsgate
, which is likely the largest and fanciest subdivision which the Crystal Coast will see for years.
It was a nice event to use to usher summer out and at least to start thinking about the changes fall will bring. The weather was hot, but the setting was nearly perfect, and the food from Class Act catering was great as usual.
Fall is our best season anyway so it is a good thing to ponder.
I am actually looking forward to fall. Wind, waves, heat, and a complicated schedule have conspired to keep my summer fishing to a minimum.
Other than some brief surf fishing, it has been five weeks since I did any serious fishing. Hopefully all those 14.75 inch flounders that I was catching have grown a little since then. Maybe fall will be when I catch a keeper flounder and a nice red drum.
Once the summer crowds disappear, we will start seeing some fall fishermen, but the bridge to Emerald Isle never gets crowded with fishermen. Of course I am
one of the few people who likes to get caught on the bridge
so I can snap some photos. For that reason I kind of hate to see the tourists go.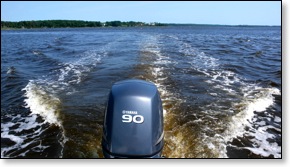 My boating time has also been limited. I have made time to get out on the White Oak and run down to Swansboro just to keep the memories alive.
My last good fishing expedition was July 8 when we spent
a day in Bogue Inlet
.
I also have not even had my kayak in the water since June. I love paddling, but with the temperatures approaching ninety on a regular basis, I have saved my energy for other things.
We will start getting into some great kayaking and fishing weather anytime now so that will soon change.
I did hear reports of someone catching a 20 pound cobia out of the White Oak.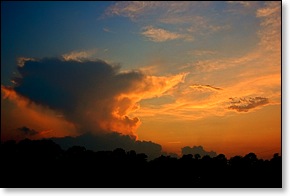 Still has been a great summer. We have managed to have a lot of fun.
I even posted
a list of 21 Things to do at the Beach
and another of
Twenty-four restaurants to try
.
We have had some very good meals lately, and many of those have been cooked at home.
Our tomato plants became so prolific that we had to start making salsa. That turned out to be an excellent experiment.
Somehow that led to fish tacos with chopped tomatoes and avocados on them.
\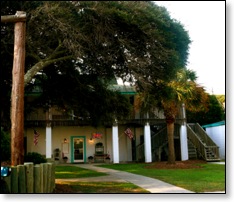 We have not neglected the restaurants. My wife and I enjoyed Frank & Clara's in Salter Path as a spot to celebrate our 36th anniversary.
For a while we were on a mission to find a nice used stroller for our granddaughter's visits. The rumor that I wanted to look in New Bern just so I could enjoy a meal at
Moore's Olde Tyme Barbecue
is likely true.
Our oldest daughter visited us from
Northern Virginia
, and treated us to a great meal at
T&W's Oyster House
.
I had some of Earl's wonderful
dungeness crab
. It was the best crab that I have ever eaten.
Just to verify that I was not wrong, I invited Alex, the Crab Man, to join me at one of T&W's all you can eat dungeness crab nights.
They have those nights on Monday and Tuesday of each week. We had an awesome meal. Crab Man ate 6.5 crabs and had to ride home in the back of the pickup so he could stretch out. I could only manage 3.5 crabs.
It was like eating in the presence of a crab eating machine. He was on his second one before I finished my first, and I am not a slow eater.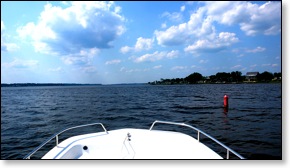 The one thing that makes me sad about summer drawing to a close is that our local produce will soon be gone.
We have really enjoyed the produce from
Winberry's Produce Stand
. The corn we recently got was some of the best of the season.
From yellow squash to
Bogue Sound Watermelons
, we have eaten as local as possible this summer.
Then there is our own tomato crop which as I mentioned earlier has been amazing. I am expecting tomato to sprout out of my ears any day now.
It will not be long before the fall festival season kicks off. There will be the
Episcopal lobster dinners
,
the Mullet Festival
, and plenty more to keep things going.
Even our church,
Cape Carterert Presbyterian
, is joining the end of summer parade with a special everyone is welcome covered dish meal and short music program at 5 PM on August 30.
I will be posting more information here and on
The Crystal Coast website
as I get the details.
Fall is a great time of year
, I am looking forward to it. We could use a little less humidity not to mention less rain.
I just checked my rain gauge. We got another 2.25 inches of rain while I was writing this.
That brings our total rain since Tuesday afternoon to 5.75 inches.
I have to go, I see a shrimp boat turning into our front yard.

Why we love it here?

It is hard to say that any place is perfect. There always a balance between what you like and what you don't like. That also changes as you age. At one time I was close to homesteading in Newfoundland.
Today I would steer you to my articles,
Ten ways Carteret County met our needs
,
Why I love living in Carteret County
, and to the
Crystal Coast Electronic Village Homepage
as answers to why we have chosen this area.
From that reading it is easy to understand why we enjoy living in a small subdivision called
Bluewater Cove
near
Cape Carteret
. It is what we were looking for in a place to live. It's close to services and close to the beach but not on the beach. We have a dock behind the house and are close to some
great trails
. I can ride my bike in the neighborhood and not face a lot of traffic.
I also use my kayak on the White Oak River and have learned to love
exploring the river and surrounding waters
with our skiff.
This area also has some great festivals like the
Newport Pig Cookoff
, the
Emerald Isle Saint Patrick's Day
, and the
Swansboro Oyster Roast.
We were also impressed with the
Emerald Isle Christmas Parade
.
It is a friendly area with a great future. So right now it is the spot for us. I often write about the area in my other websites. If you are a very avid reader, you might find some content on multiple sites, but usually the content is fairly specific to the sites.
View from the Mountain
Ocracoke Waves
Crystal Coast Living Blog
Crystal Coast Blog 09
Crystal Coast Blog 08
Some archived articles
More Crystal Coast Info