Oct. looks good from here, Sept. 28, 2009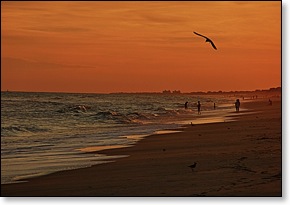 Three weeks ago when I was writing about
our Labor Day deluge
, i predicted that we would have some better weather.
It has been hard to find that good weather. We got high tides after the rains, and the skies stayed cloudy.
I managed to get in
a little high water kayaking
which was fun.
There were times when you could grab some sun on the beach, but you had to be vigilant.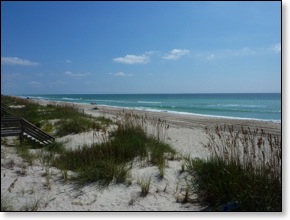 There were a lot of people declaring that summer was over, but I refused to buy into that notion.
After all this is the North Carolina coast, we do not let summer go that easily.
Only a few days after I drew my line in the sand over summer leaving, the warmth came back.
I was able to declare that "
Summer is not yet over
," as the temperatures once again warmed up.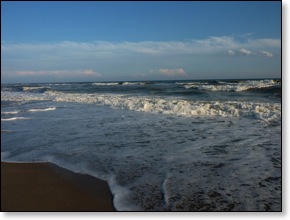 With warmer temperatures and
better looking skies
, all of our moods improved.
We took
a Sunday afternoon trip to Atlantic Beach
.
It was nearly a perfect afternoon on the beach.
There were lots of people and the temperature was just right. It was one of those beach walks that gets burned into your memory.
Even the sand was especially nice for walking.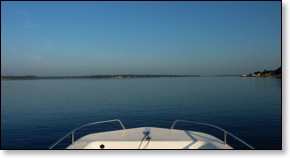 Before the weather started to improve, I was getting a little worried.
I even wrote a post entitled
Limitless possibilities
coming up with all the neat things that you could do in the fall.
That post was written as much for me as for visitors. Fortunately we did have some nice water and weather show up at the same time.
It even got really hot and humid just in time for
the annual migration of white shirts to the beach
.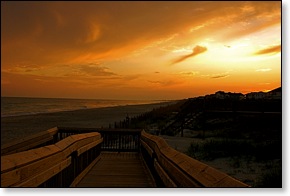 With fall on the horizon, we have become diligent about enjoying as much beach time as we can.
With beautiful fall sunsets, it is a pleasure to close down the beaches each evening.
Probably the nicest evening we have enjoyed is last Friday when we went over to the beach for some surf fishing.
I even managed
to catch a bluefish with my trout rod and a gold spoon
.
As far as I am concerned, spending an evening on the beach with my wife and enjoying salt water on my toes is about as good as it gets.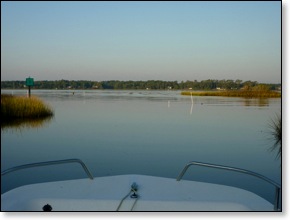 Of course I continue to have fun on the White Oak.
An early morning ride to Swansboro is always good for the soul.
The river is
a gateway to fun for me
.
There are days like today when being out on it would not be any fun.
However, there are plenty more days when the river is one of the most beautiful places on earth.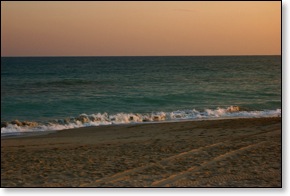 It is a hard choice deciding where to spend your time, beach or boat.
I love the beach. It is easy to drive over and relax while fishing.
With the boat, if I am the skipper, there is not much relaxing. I have to stay on my toes.
I think that is why good weather is so important for having fun when you are boating.
If the weather is nice, it is one less thing to worry about while piloting the boat.
One recent Saturday, I took my wife on a short boat ride to Swansboro. I call it
my Swansboro loop
.
It is a familiar area for me, and we were just pleasure boating, but by the time we got back to the White Oak it had turned a little nasty.
A north wind had whipped it up into some white caps. I was happy we only had a ten minute ride home.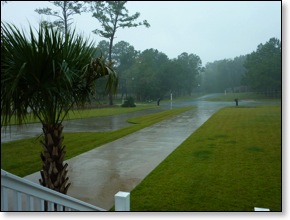 Of course it would not be fair to ignore the over twelve inches of rain that we have had this September.
I have actually lost track of the minor storms. Just three days of rain gave us the twelve plus inches that I can remember.
The most recent one which dumped almost two inches on us came with after
a warning
earlier in the week.
After we had a couple of good evenings on the beach, I was sure we could sneak in one more on Saturday afternoon.
That would have been three in a row.
It was not to be. We got hit with
a spectacular thunderstorm.
I was already sad from missing the first of the Episcopal lobsters, and the deluge of rain made me wonder when we would see more than two good days in a row.
Fortunately I had some strength to draw on, having eaten
Dungeness crabs at T&W's
earlier in the week.
I focused myself and decided that the only solution is
Carpe Beach Diem
.
Fortunately for me, it did not take long for
the blue skies to come back
and take over control of our weather on Sunday.
We managed another nice beach walk. It was only
today's gusty winds
that kept us from another beach walk.
The good news is that there is no rain in the forecast this whole week. If the winds will die down, we could have a fantastic week.
For those looking for something to do,
the NC Seafood Festival
is this coming weekend and
the Mullet Festival
is the weekend after.

Why we love it here?

It is hard to say that any place is perfect. There always a balance between what you like and what you don't like. That also changes as you age. At one time I was close to homesteading in Newfoundland.
Today I would steer you to my articles,
Ten ways Carteret County met our needs
,
Why I love living in Carteret County
, and to the
Crystal Coast Electronic Village Homepage
as answers to why we have chosen this area.
From that reading it is easy to understand why we enjoy living in a small subdivision called
Bluewater Cove
near
Cape Carteret
. It is what we were looking for in a place to live. It's close to services and close to the beach but not on the beach. We have a dock behind the house and are close to some
great trails
. I can ride my bike in the neighborhood and not face a lot of traffic.
I also use my kayak on the White Oak River and have learned to love
exploring the river and surrounding waters
with our skiff.
This area also has some great festivals like the
Newport Pig Cookoff
, the
Emerald Isle Saint Patrick's Day
, and the
Swansboro Oyster Roast.
We were also impressed with the
Emerald Isle Christmas Parade
.
It is a friendly area with a great future. So right now it is the spot for us. I often write about the area in my other websites. If you are a very avid reader, you might find some content on multiple sites, but usually the content is fairly specific to the sites.
View from the Mountain
Ocracoke Waves
Crystal Coast Living Blog
Crystal Coast Blog 09
Crystal Coast Blog 08
Some archived articles
More Crystal Coast Info