Perfect Beach Day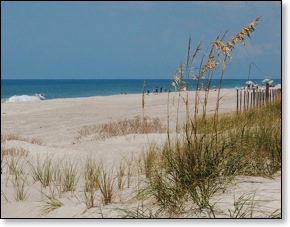 I have to admit to being gone from paradise for a few days.
In fact I missed our "storm" which dumped only one half inch of rain into my gauge.
We were lucky, but we could have used a little more rain.
Yesterday, July 26, was as close as you get to a perfect beach day.
First thing in the morning, I had a nice bike ride followed by some laps in the pool.
Knowing that I had to work in the office during the afternoon, we decided to take a quick trip to one of our favorite beaches.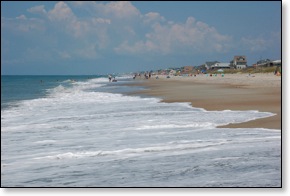 Third Street Beach Access which
Google is helping us keep as a secret
by ignoring it on their maps is one of the smaller beach access parking areas.
If people park carefully, you might get ten cars in there. It is one of our favorites just for that reason. Not surprisingly it is located between Second and Fourth Streets even if it isn't labelled on the map.
Another reason for our trip was that I was curious as to what the traffic would be like on a nearly perfect Saturday beach day in July.
We left home at a little after 11:00 AM and made it to Emerald Isle in our normal ten minutes. Once we got over on the Island traffic was a little heavier. Still it took a little less than fifteen minutes to go the next eight miles.
The total trip was 15 miles, and we made it in just less than 25 minutes.
As we neared the parking lot, I was happy to see an empty space which turned out to be the last one.
We actually have never seen that much traffic at 3rd Street, but we rarely go to the beach in the heat of the day.
I stepped quickly across the hot sand to get to the cool damp sand to take my pictures.
The water was great, I managed to get wet even though I was not wearing my bathing suit.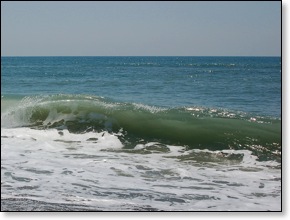 I also got some great wave shots like this one. There were several folks on the beach, but it was by no means crowded.
People were relaxing in beach chairs, others were in the water jumping waves, and a few were even trying to catch a wave with their surf boards.
It was a perfect beach day, not too hot with the water just slightly cooler than the air. Weather like this is one of the reasons we have made Carteret County our home.
To finish up this post, I have done
a short slide show
of that quick trip to the beach.
Here are some
additional shots of the beach
taken closer to the Point.
This is
a map of the area with services
and favorite beaches shown.
If you are someone who enjoys boating, you might enjoy this trip I call
Mackerel Morning
. It is a fishing trip out the White River to Bogue Inlet and down by Hammocks Beach.
This is
a YouTube movie taken in December
so the beach is pretty nice even then, but I prefer July.
On YouTube make sure you click "Watch in high quality if you have the bandwidth."