March warmth, March 5, 2009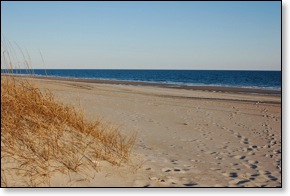 Today was one of the first days that we have actually gotten onto the beach in a while.
Besides trying to ignore the cooler than normal temperatures, I have been enjoying a birthday visit from my kids and our granddaughter.
Having another page of the calendar turn over has some privileges.
I got a cake from Cornelius, smoked salmon from New Brunswick, steaks on the grill for one meal, and clam chowder in Panera Bread bowls for my birthday dinner.
It was a good time to be occupied inside and curled up by the fireplace.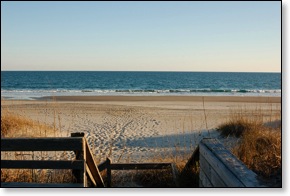 I cannot say that we have had great weather at the end of February and the beginning of March.
I took this
snowy picture of our front yard
on the morning of March 3. It was the day after the big east coast snow storm.
The good news is that today's temperature got near sixty degrees, and we have a chance of hitting eighty degrees this weekend.
Practically everyone is talking about the cold winter here on the coast. I am happy to report that plenty of daffodils are blooming.
Today I also saw a whole field of dandelions that had gone to seed. We have also seen plenty of robins and some trees trying to bloom.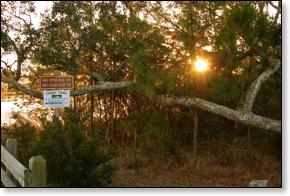 If we are lucky, this will be the last of winter, and I can stop writing about it..
This picture of a sunset in the trees was taken at the
Croatan National Forest boat ramp in Cedar Point
.
We were surprised to find several campsites occupied at the Croatan Campground. People had some nice fires going and appeared to be having fun.
I did manage to make it down on the beach today where I snapped the first picture in the post.
That picture was taken at the Third Street Beach Access on Emerald Isle.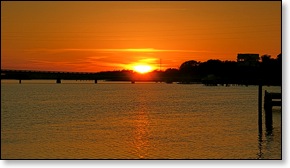 This sunset picture was taken at the park at the end of Anita Forte Street in Cape Carteret. I love the Live Oak trees that are there.
That park and the quiet streets surrounding it two reasons that I think Cape Carteret is such a neat spot.
After leaving the park, we noticed that they were hanging the sign for the new Quizno's at the strip mall in Cape Carteret. I always love a new place to try for lunch.
I say try because we are pretty loyal to the local restaurant people. We have some unique small restaurants which I would love to see prosper.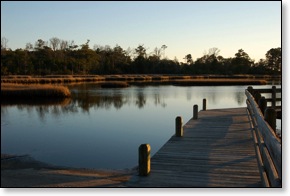 I am amazed at how many times I can snap a picture of a particular place and still be surprised at how different it looks.
This picture was taken at the Croatan Cedar Point Access area.
I must have taken two hundred pictures there, and I continue to find new ways to look at it.
There was a meeting this week about the White Oak and also about Boat Creek which is the stream that flows by the Croatan Access area. There needs to be some work done to slow the movement of storm water into the White Oak.
It is a priority for us all, and I hope some action will be forthcoming.
I am a little behind in my writing this week, but you do not often get to spend several days with your kids and grandchild. I
The next few days I will catch up while I am enjoying my memories.
Expect some additional links to this post over the next few days as I write some additional thoughts.
I did write a piece about
a nice winter sunset on the White Oak
, one using the same picture but about
my love for printed works
, and another about
dreaming of summer at the beach
.
My thoughts on the current real estate market are at
this post on Trulia
.
An archive of recent posts featured on this page is at
this site
.

Why we love it here?

It is hard to say that any place is perfect. There always a balance between what you like and what you don't like. That also changes as you age. At one time I was close to homesteading in Newfoundland.
Today I would steer you to my articles,
Ten ways Carteret County met our needs
,
Why I love living in Carteret County
, and to the
Crystal Coast Electronic Village Homepage
as answers to why we have chosen this area.
From that reading it is easy to understand why we enjoy living in a small subdivision called
Bluewater Cove
near
Cape Carteret
. It is what we were looking for in a place to live. It's close to services and close to the beach but not on the beach. We have a dock behind the house and are close to some
great trails
. I can ride my bike in the neighborhood and not face a lot of traffic.
I also use my kayak on the White Oak River and have learned to love
exploring the river and surrounding waters
with our skiff.
This area also has some great festivals like the
Newport Pig Cookoff
, the
Emerald Isle Saint Patrick's Day
, and the
Swansboro Oyster Roast.
We were also impressed with the
Emerald Isle Christmas Parade
.
It is a friendly area with a great future. So right now it is the spot for us. I often write about the area in my other websites. If you are a very avid reader, you might find some content on multiple sites, but usually the content is fairly specific to the sites.
View from the Mountain
Ocracoke Waves
Crystal Coast Living Blog
Crystal Coast Blog 09
Crystal Coast Blog 08
Some archived articles
More Crystal Coast Info