A special place, a special time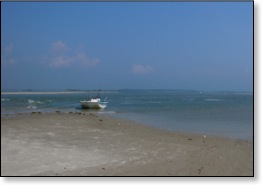 One of the great things about living near Bogue Inlet is that you can have your own private beach if you have a boat.
In these days of a crowded world, the opportunity to put your bare feet in some fresh sand that has only been above water for a few hours is a neat experience.
Surveying the world from one of these beaches is a chance to the see things from a different perspective.
The beaches come and go as they please. They also change shape from day to day.
Spending time on them is like being in a spot that others might never see the sand and ocean exactly as you have seen it.
It is especially nice to visit a low water beach during a hot spell like we have been enduring for the last week.
Monday, August 4, a friend and I made the trip from
Bluewater Cove
on the
White Oak River
down to
Swansboro
and out Bogue Inlet.
I posted
some slides of the trip to Bogue Inlet
on Apple's new MobileMe site.
Though we left just before 8 AM, there was
fog on the river
starting just before
Swansboro
. By the time we reached Bogue Inlet, the fog had gotten so thick that we turned on our running lights.
Not long after we beached the skiff, the sun burned away the fog. We spent about three hours there on the beach fishing before heading back to the dock.
That area between
the Point at Emerald Isle and Bear Island
is a really neat spot.
When you can do a trip like that, you cannot complain very much about work because I stepped off the boat at 12:05 PM, showered, ate a quick lunch with my wife since it was our 35th anninversay, and then headed to work at
Bluewater's Cape Carteret office
.
I walked in the door at five minutes to 1 PM which was when my shift started.
There aren't many places in the world where you can sleep late, fish for nearly four hours and still make it to work early.
Because of where we live, this isn't unique. About a year ago, we didn't sleep late, but we still managed
a Spanish Mackerel fishing trip
and my fishing partner got to work by 9 AM.
After I got home from work this past Monday, I took my wonderful wife to an annivesary dinner at
Riverside Steak and Seafood
which happens to be the home of the tastiest Grouper that I have ever eaten. When they learned it was our 35th anniversary, we were treated to some of their Mississippi mud pie which finished me off for the day.
It was a pretty special meal since a client had given me a gift certificate that covered much of the cost of the evening
So far it has been a great summer, last weekend we took a trip the Duke Marine Lab near Beaufort. We had fun looking at their petting zoo. I posted some
slides of the trip
which also have a few shots of my weekend activities of biking, kayaking, and boating.
The heat is predicted to be gone tomorrow, but I cannot say that it has done much to slow us down. It did get me mowing my yard bright and early this morning before the heat got intolerable.
If you haven't seen an update of Cannonsgate, the new waterfront community on Bogue Sound, I did
some slides of the Clubhouse
. It is very impressive.
Finally, I took time recently to put together
a collection of the photos
that I have sent to WITN. There are some great sunsets and sunrises in there.