Warm Weather Brings Fog 12/18/08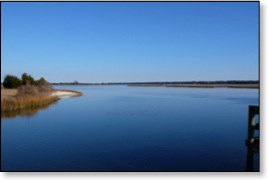 I had to go back to December 8 to find a completely blue sky day for this page. We have seen more fog than blue skies over the last couple of weeks.
The good news is that our temperatures have been in the sixties and seventies for the most part.
We have had couple days when we struggled to get to fifty and perhaps a couple where we got stuck just below fifty.
We have seen a great improvement over the cold temperatures from late last month.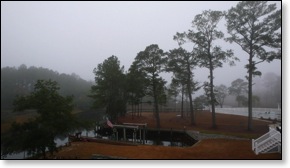 The colder than normal weather we have experienced since before Thanksgiving cooled the waters a lot.
So it should come as no surprise that we have seen the warm air over the cold waters produce fog.
As much as I would love to see some more sunshine, I cannot complain when it is 54 degrees at 11 PM on December 18.
I have Canadian friends who would likely do almost anything to see a temperature that warm in December.
As I wrote recently in
the Crystal Coast Living Blog
, I have friends in Edmonton, Alberta who endured temperatures of minus thirty-four degrees Fahrenheit this weekend.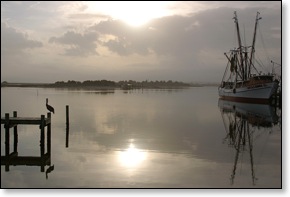 There still have been plenty of great opportunities for pictures.
I snapped this shrimp boat picture at Clyde Phillips Seafood between the bridges at Swansboro.
It was a quiet day and mild like most days recently.
In fact as far as I can tell our heat pumps have hardly run at all this week.
That is a very nice treat in late December. It goes well with the falling gas prices.
My son, who lives in Northern Virginia, and I were having an online chat this afternoon. He was saying you hardly needed a coast up in the DC area. I asked him what a coat was?
That rattled his cage nicely. He responded with a rude comment about beach dwellers.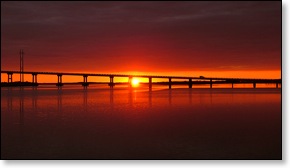 Sticks and stones might break my bones, but calling me a beach dweller is not going to hurt very much.
Anywhere you can find a scene like the setting sun behind the Emerald Isle bridge is a place to treasure and to restore your sanity.
Speaking of Emerald Isle, this past week was their Christmas parade. It is one of my favorite events here on the Crystal Coast.
It is an old fashioned parade where there are almost as many people in the parade as there are watching the parade.
I did
an article on the parade
which has already drawn a lot of visitors.
Saturday was a perfect day for a Christmas parade. It was just cool enough to remind you that it is winter.
The Wells Fargo Stage Coach and the Croatan High School Marching Band were in the parade along with lots of other treats.
We stayed for the Christmas tree lighting by Mayor Art Schools and got to see Santa arrive for a last minute visit with the kid in Merchants' Park.
I created
a web page with links to YouTube versions of movies
of the parade and
a slide show of a few photos
out of the 400 still shots that I took.
One of my favorite shots from the parade is the
Bluewater float
.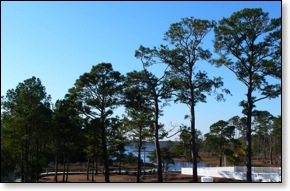 We have not been completely without blue skies as this photo from
Bluewater Cove
shows.
We recently had our holiday party in Bluewater Cove. It was fun getting together with neighbors.
Our company Christmas party was
a little different this year
.
That is probably to be expected given how difficult this year has been for real estate.
I am personally not very upset about people spending less on Christmas presents for their own families.
It has been good to see donations for Toys for Tots stay strong this year. Our office got several more toys than last year.
We are still looking for more people to start contributing events and information at our
Crystal Coast Electronic Village
.
It is easy and a great, free way to get out announcements on upcoming events.
Just as I was finishing this up, I heard Jay Leno say that
it snowed in Malibu yesterday
and that Las Vegas also got snow.
Given that, I think we can be proud of our temperatures in the sixties and low seventies here on the Crystal Coast.

Why we love it here?

It is hard to say that any place is perfect. There always a balance between what you like and what you don't like. That also changes as you age. At one time I was close to homesteading in Newfoundland.
Today we live in a small subdivision called
Bluewater Cove
near Cape Carteret. It is what we were looking for in a place to live. It's close to services and close to the beach but not on the beach. We have a dock behind the house and are close to some
great trails
. I can ride my bike in the neighborhood and not face a lot of traffic.
I can also use my Kayak on the White Oak River and hopefully soon try our new skiff there. The area also has some great festivals like the
Newport Pig Cookoff
, the
Emerald Isle Saint Patrick's Day
, and the
Swansboro Oyster Roast.
We were also impressed with the
Emerald Isle Christmas Parade
.
It is a friendly area with a great future. So right now it is the spot for us. I often write about the area in my other websites. If you are a very avid reader, you might find some content on multiple sites, but usually the content is fairly specific to the sites.
View from the Mountain
Ocracoke Waves
Active Rain Blog
More Crystal Coast Info
Crystal Coast Blog