A Season Recap Dec. 4, 2009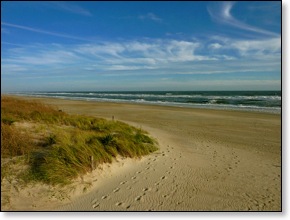 It has been a great season here on the Crystal Coast.
I think we have seen just about everything in the weather catalogue except a hurricane. We certainly have gotten plenty of precipitation.
Yesterday I snapped this beach picture over at the Western Regional Beach Access at Emerald Isle. As you can see the beach was empty.
I counted two people walking on the beach, and I met two surfers headed to the beach as I was walking back to my truck.
November was an amazingly mild month. December has also started out warm. I even picked
some tomatoes
this week.
I doubt our heat pumps have run much more than half a dozen times in the last few weeks.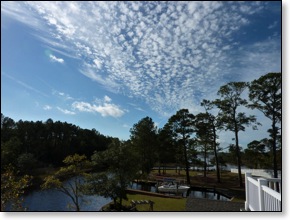 Considering we started the year with
a dusting of snow on January 20
, the weather this year really has been relatively kind to us.
The one exception as I mentioned is the rain. I have no idea how much rain we had for the year, but I do know the drought is definitely over here.
Just in the first part of November we had
over 17 inches of rain
. In just four storms which hit from summer to fall, we have had over 33 inches of rain.
There is still
some minor flooding on Emerald Isle
from the earlier storms.
December has also not started out as a dry month. Just one storm this first week of December dropped 2.5 inches, and more rain is expected Saturday, December 5.
We can take some comfort in this next batch of rain. In the western part of the state it will come down as snow with some areas receiving two to six inches.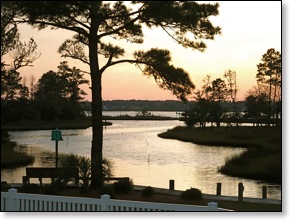 The area's scenery
continues to make living here a wonderful experience.
Whenever I get blue, I always head across the
Emerald Isle Bridge
. Looking across Bogue Sound always raises my spirits.
It has been a great year for fishing. There were some
memorable times
on the water.
There really is no better way to appreciate Bogue Sound and surrounding waters than by boat.
I really do think this is one of the great boating areas on the East coast. Whether I am out in my skiff or paddling my kayak, I have a great time.
Then there is the fishing. Catching over
seventy bluefish
in one trip will stick in my mind for a long time.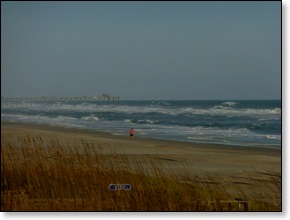 Of course the beaches have been a great haven of sanity this year. I listen to the news, and then I go
surf fishing
and let the waves wash it all away.
We had some
near perfect days
on the beach this summer. I already miss that summer heat.
While I have enjoyed the beaches, I really have
enjoyed being out on the water
even more.
This year, I finally felt like I knew my way around area waters.
We made a number of trips out Bogue Inlet. I evenmounted a camera on the center console of our skiff so I could record the adventures while piloting the boat.
These pictures make for
a nice virtual trip out the White Oak to the ICW and Bogue Inlet
with a return to
Bluewater Cove
.
There have also been fun things to do without getting in a boat or walking the beaches.
We have enjoyed visits to the
PKS Aquarium
, the
Maritime Museum
, Fort Macon, and the
Core Sound Museum
.
Beyond that, there were some great events in the spring like the
Emerald Isle Saint Patrick's Day Festival and Swansboro Oyster Roast
.
We also enjoyed
Lobsters at Saint Frances by the Sea Episcopal Church
and had a fun time at the annual
Mullet Festival.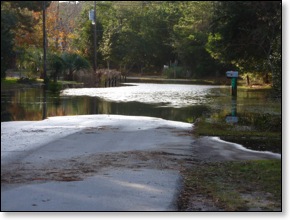 There have been challenges like the recent flooding over on Emerald Isle and some periods of extended wind when we could not get out on the water.
Still weighing everything, we have been very blessed this year. We had a great growing season. I got
my first tomato on June 5
, and I still have green ones on my vines this first week in December. We enjoyed
wonderful Bogue Sound watermelons
along with fresh local strawberries in April and wonderful local corn in late June. We made many trips to the
Winberry Produce Stand
.
The flowers at Tryon Palace
were just as extraordinary this year as they were last year.
All in all this has been a great year, and we still have some
time to make some more memories
before the New Year. This is definitely the place to create memories.
I am hoping to enjoy the New Year just as much as I enjoyed 2009. Maybe 2010 will be the year that I catch that big red drum.

Why we love it here?

It is hard to say that any place is perfect. There always a balance between what you like and what you don't like. That also changes as you age. At one time I was close to homesteading in Newfoundland.
Today I would steer you to my articles,
Ten ways Carteret County met our needs
,
Why I love living in Carteret County
, and to the
Crystal Coast Electronic Village Homepage
as answers to why we have chosen this area.
From that reading it is easy to understand why we enjoy living in a small subdivision called
Bluewater Cove
near
Cape Carteret
. It is what we were looking for in a place to live. It's close to services and close to the beach but not on the beach. We have a dock behind the house and are close to some
great trails
. I can ride my bike in the neighborhood and not face a lot of traffic.
I also use my kayak on the White Oak River and have learned to love
exploring the river and surrounding waters
with our skiff.
This area also has some great festivals like the
Newport Pig Cookoff
, the
Emerald Isle Saint Patrick's Day
, and the
Swansboro Oyster Roast.
We were also impressed with the
Emerald Isle Christmas Parade
.
It is a friendly area with a great future. So right now it is the spot for us. I often write about the area in my other websites. If you are a very avid reader, you might find some content on multiple sites, but usually the content is fairly specific to the sites.
View from the Mountain
Ocracoke Waves
Crystal Coast Living Blog
Crystal Coast Blog 09
Crystal Coast Blog 08
Some archived articles
More Crystal Coast Info