Cool but pleasant weather 11/11/08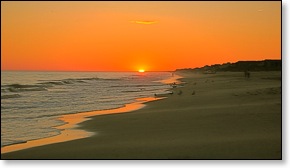 We have been through some really pleasant weather over the last week.
It has been great weather to enjoy the out of doors.
The picture at the upper left was snapped over at Emerald Isle on last Thursday night just off of Heverly Drive.
In
the larger version
you can easily make out the truck parked on the beach with surf fishermen around it. Fishing and beaches are two of my favorite things.
My only complaint about this time of year is that we run out of sunlight before I can finish everything I want to do.
While we are having cool weather, it still warms up nicely during the day.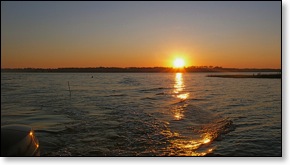 Those warm afternoons mean we have had some enjoyable times fishing later in the day.
The quantity of fish we are getting is nothing to get excited about.
We are catching just enough to keep us happy and put some fish on the table.
The picture to the right was snapped last Friday as we headed back to my home in
Bluewater Cove
.
There is still
plenty happening in November
along the coast. Last Friday night was the Candlelight Shopping in Swansboro.
Yesterday we drove down to
Beaufort
to take some new pictures for
the Carteret County website
we are helping launch.
I posted
a few pictures on Picasa Webalbums
of our walk along the Beaufort docks. It is always fun to watch boats come and go in Beaufort.
Beaufort's renewal is
a great story
.
I always enjoy watching boats dock in Beaufort. Yesterday I took this video which I
posted on YouTube
and in
Apple's MobileMe Gallery
(does not work with Linux). If you watch the YouTube version select watch in higher quality if you want the best viewing experience.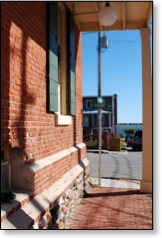 We also had a nice walk along the streets of Swansboro. About the biggest excitement was getting to renew our acquaintance with Morris, the town cat.
He seems in particularly good shape for the winter. That supplemental bacon diet that he gets from Jana's probably has something to do with his being prepared for colder temperatures.
Swansboro was very quiet with few people walking the streets.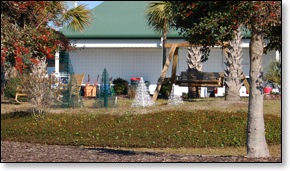 One of the sure signs of the approaching holidays is the appearance of Crab Pot Christmas trees at local retailers.
I snapped this picture over at the Ace Hardware by Emerald Plantation on Emerald Isle.
We love Crab Pot trees, and every person, who visits us and sees ours, ends up buying one. They are about as convenient as a Christmas tree can get.
I just did a post on Crystal Coast living entitled,
This is why we live here
and another at View from the Mountain called
Enjoying a feeling of contentment.
One last note, Riso's on Highway 58 in Peletier was open for lunch last week. I hope it works out for them. I have also heard that T&W's Oyster House has re-opened, but we have not tried it since the new management took over.