Blue skies come back January 30, 2009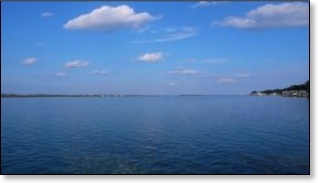 Fortunately the
snow
we got on inauguration day quickly disappeared.
We have struggled to get some blue skies, but this seems to be a countrywide problem this winter. We will do better this weekend.
The weather has improved this week, we have managed to get in a few walks over in Emerald Isle. We try to avoid walking when there is much wind.
Just the fact that we have walked over on Emerald Isle is a good sign.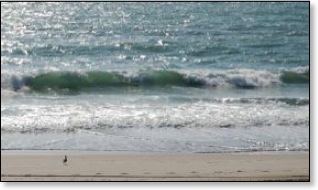 It has been a tough week for sunsets. I do not think that I got a single good one.
It was nice to see the right kind of color in the ocean waves. Now if I could just see some fish throwing themselves on the beach to escape from Bluefish, I would be happy.
I will admit that this has been a much colder winter than the past two here on the coast.
My friends in Canada tell me that they have not seen a winter this cold since 1982. I wonder what happened to global warming?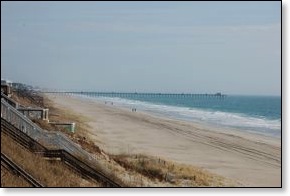 It is good that it has been nice enough to be poking around again.
Earlier in the week, just catching some blue sky required serious attention to the task.
With our wanderings we have managed a few meals out this week.
We have not been anywhere expensive, and we even took advantage of the McDonald's Dollar Menu.
I really enjoyed the all you can eat shrimp and fish meal on Wednesday night at
the Fairway
on Highway 58.
Tonight we took advantage of a buy-one get-one free coupon for the Bogue House in Cedar Point.
My wife had a very good piece of flounder. I really enjoyed some collards and butter beans with my clam strips.
It is still a long time until the Crab Shack opens, and I can get
some real fried clams
so this will help me make it through the winter.
It was a nice mid-winter break to get out and about with some friends and enjoy food cooked by someone else.
Unless you have had your television turned off this week, you know the news has been uniformly bad so diversions are in order.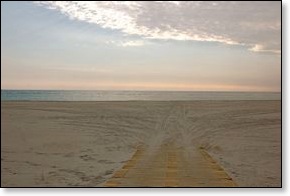 However, in talking to a number of real estate agents, the consensus seems to be that activity has picked up slightly.
The
ocean front duplex
that I have listed was shown this week, so I am very happy about that, and excited about being on track for my second closing of the year.
I also noticed that there were a few more jobs in the Carteret News-Times.
That needs to be balanced with the news that over fifty people applied for a single job vacancy in Cedar Point.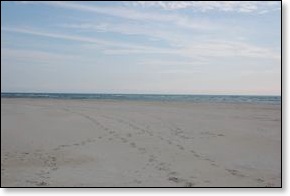 Mostly we all have to keep our heads up, not frighten ourselves, and keep focused on the future.
The Crystal Coast is a great place. We will be back to prosperity as quick as any area.
On the TV news this week, one story reported that rentals were down 35% on the northern Outer Banks.
It turns out that our local rental companies are only seeing a 5% drop in reservations.
That comes after a very good year last year.
I think a year from now things will look much better. Some of the recent calls we have received have been for lots.
Lots have been one part of the real estate market that has fallen off a cliff in 2008. There was a huge drop in the number of lots sold last year.
Perhaps we got calls because lot prices have finally started moving downward with some dropping as much as 30% recently.
Whatever the reason, if we can get people buying lots and building houses once again, the giant pump that keeps the economy moving will once again be primed.
It would be nice for that to happen before fishing season, so that I could fish without guilt, but I will not be holding my breath on that one or ignoring fish that are biting.
It will be festival time soon. First up will
the Chocolate Festival
in Morehead City.
Then it will not be long until the Swansboro Oyster Roast which is always fun if you love steamed oysters.
You can read more about our recent wanderings on my
Crystal Coast blog
.

Why we love it here?

It is hard to say that any place is perfect. There always a balance between what you like and what you don't like. That also changes as you age. At one time I was close to homesteading in Newfoundland.
Today I would steer you to my articles,
Ten ways Carteret County met our needs
,
Why I love living in Carteret County
, and to the
Crystal Coast Electronic Village Homepage
as answers to why we have chosen this area.
From that reading it is easy to understand why we enjoy living in a small subdivision called
Bluewater Cove
near
Cape Carteret
. It is what we were looking for in a place to live. It's close to services and close to the beach but not on the beach. We have a dock behind the house and are close to some
great trails
. I can ride my bike in the neighborhood and not face a lot of traffic.
I also use my kayak on the White Oak River and have learned to love
exploring the river and surrounding waters
with our skiff.
This area also has some great festivals like the
Newport Pig Cookoff
, the
Emerald Isle Saint Patrick's Day
, and the
Swansboro Oyster Roast.
We were also impressed with the
Emerald Isle Christmas Parade
.
It is a friendly area with a great future. So right now it is the spot for us. I often write about the area in my other websites. If you are a very avid reader, you might find some content on multiple sites, but usually the content is fairly specific to the sites.
View from the Mountain
Ocracoke Waves
Crystal Coast Living Blog
Crystal Coast Blog 09
Crystal Coast Blog 08
Some archived articles
More Crystal Coast Info