Pretty nice afternoon in Carteret County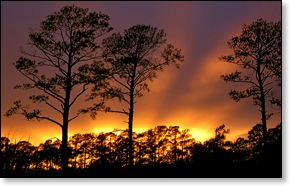 It is nearly impossible to complain about the great weather around here.
A bike ride in the middle of February when you get to wear a tee-shirt and shorts is almost heaven.
We needed the 1.25 inches of rain we got last night, and the rain today held off until after I had finished my late afternoon ride.
On top of that the skies cleared just enough for some great photographs just before dusk.
This weekend we are headed back into the sixties again. There is nothing wrong with the temperature staying in the sixties in February.
That is especially the case since I can hear the weatherman saying that there will be a couple of inches of snow near Richmond tonight.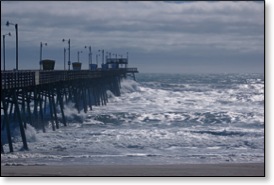 It was not a day to get in the surf.
I have to say that the surf was really impressive given that the winds were not that bad.
We just got back from a trip to Roanoke, Va where we
endured winds close to 70 mph
.
On top of that some forest fires got started and have burned thousands of acres.
I guess we are pretty lucky down here. The weather is mild and so far we have not even had a bad nor'easter this winter.
I am sure that our time will come.