Mar/13/08 23:13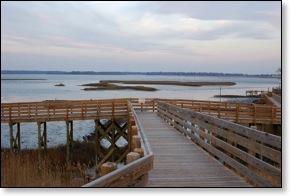 It is always a pleasure to get back home.
I always feel like I am home when I can see the White Oak.
When we got back yesterday, there was no temperature differential.
We have been leaving Roanoke in the thirties and arriving here on the coast in the sixties. Roanoke and Cape Carteret were both in the sixties yesterday.
Raleigh is even a little farther ahead with spring than we are. I heard it was in the mid seventies there today.
Still it was nice to walk into a home where the heat hasn't been running. It was also nice to have the windows open all day today.
I hope to catch both the weekend festivals in Swansboro and Emerald Isle. I will post pictures later this weekend.
Right now Saturday looks to be a lot warmer than it was last year.
I am looking forward to getting over to the Island festival before the pipers are gone this year. I am counting on finding great barbecue for lunch.
Of course I expect to enjoy a bunch of oysters for dinner in Swansboro. Last year was
a real treat
.