Winter starting to relent
Jan/04/08 21:41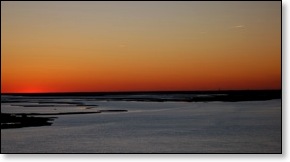 This morning when I rolled out of bed, it was clear that Raymond's Gut behind our home had ice on it.
The thermometer read twenty degrees. That is the coldest day I have seen here on the coast.
The good news was that the wind has stopped. When I snapped the picture last night, the wind has slowed only briefly. I suspect the cold clear air has something to do with the intensity of the colors in the picture.
Later in the evening when we pulled into the Bogue House along with several other folks from the area for a nice evening meal without any effort on our part, the wind was a serious part of cold.
I managed to walk in with just my sweatshirt, but when we went back to the car and discussed the possibility of going to the grocery store, it was quickly voted down in favor of heading home and relaxing in front of the fireplace.
Today I went down to Morehead City to get my NC driver's license. I was a little amazed to be taking a pencil and paper test in this age of computers, but I managed to get through it.
Fortunately I had found a neat website which had a much better study guide that NC's very boring driver's manual.
If you need a link to it, send me a note.
At least the weather had moderated a little so it wasn't so cold getting in and out of the car.
I have to be careful since I just talked to former neighbors of ours in Canada. Our farm in
Tay Creek, New Brunswick
was often snowed under.
Still I was surprised to hear that they have six feet of snow on the ground. Our friends reminded us that they had seen that much snow since the winter of 1976 which was our third year on the farm.
I think they can keep it. I am looking forward to those warmer temperatures that are predicted for Monday.