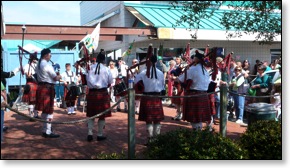 This weekend marked the beginning of the beach season if festivals are any indication.
We attended the Emerald Isle Saint Patrick's Day festival on Saturday.
Later in the day, after a short wait in line, we enjoyed the Swansboro Oyster Roast.
The weather could not have been more perfect.
I actually think that I could have worn shorts instead of blue jeans.
We had a great barbecue sandwich at Emerald Isle, but we were careful not to overeat since all you can eat Oysters don't come around every day.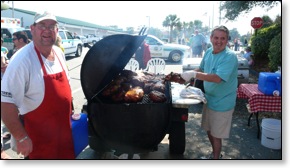 Shorts would have been a good uniform for the Swansboro festival.
There was quite a crowd there, especially around the Oyster tables.
Also it is hard work eating your way through those piles of steamed Oysters.
There was definitely something for everyone on Saturday.
I can highly recommend the festivals which seem to always be the same weekend.
If you are smart, you will circle the weekend on your 2009 calendar.
What could be better than few dozen steamed Oysters or fantastic barbecue?
As long as you are not afraid to use an Oyster knife, and you have a good glove to protect one hand, this is great sport.
I find a towel helpful to keep my knife clean, and a beer to quench my thirst the only other ingredients needed.
If you love Oysters, you will go away happy and full from the Swansboro festival.
It was a great Saturday, I cannot wait until the next festivals along the Crystal Coast.
I am happy to see the season moving towards summer. Now if the weather will just warm back up to what it was Saturday.