May/17/08 23:18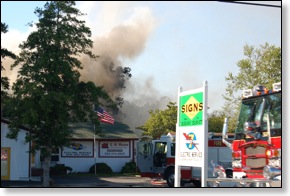 Saturday afteroon we were driving down to capture some shrimp at Captain Sams.
We were almost there when we saw some black smoke coming from behind some buildings.
I looked in my rear view mirror and in the distance I could see fire trucks approaching.
I wisely kept moving and focused on the shrimp and let the professionals go to work.
While we were buying the shrimp, the Swansboro department joined the battle. By the time we drove back by and snapped these pictures, even the Stella truck was there.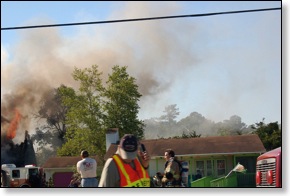 I haven't heard any details, but I hope no one was hurt.
When we went back by the fire, traffic going westbound on Highway 24 was stopped and backed up past the intersection with Route 58.
We headed on over to Emerald Isle and down to one of our favorite beaches to check and see if our beach chairs were working okay.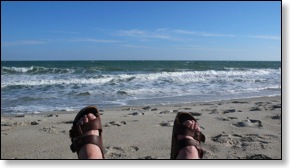 You don't want to have equipment malfunctions in the middle of beach season.
The winds were a little too persistent for our tastes over on the beach so we did not stay long. I still got to cool my heels a little.
After the wonderful couple of hours we had on the beach on last Thursday, it is hard to settle for anything less.
That day was so good that I wrote about it in a post,
Practicing my chapel skills
and posted
a set of web slides
.
I am looking forward to some warmer weather and quieter winds next week. At least that's
what Weatherunderground is promising
.