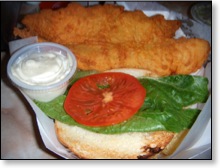 We had noticed
ChowdaHeads
opening over on Emerald Isle earlier in the summer. We also figured out that there wasn't a lot of parking so we put off trying their food until the summer crowds disappeared.
We were pleasantly surprised the first time we went. We both ordered the Smitty's Big Fish which is slab of Grouper on a Kaiser roll. It turned out to be very good, and an excellent buy at $6.79.
ChowdaHeads' menu
has a number of tasty treats worthy of exploration. I have also tried their chowder which I really enjoyed at the restaurant. I even bought some to bring home but it did not keep well, so I still a little undecided on the chowder.
We are pretty fussy about chowder and have on own
Sobotta family chowder recipe
so we may just be hard to convert to restaurant chowder.
We also tried the mini-desserts that ChowdaHeads serves and found them to be delicious.
We are looking forward to going back to ChowdaHeads for a third exploratory trip.
If you haven't tried it, it is definitely worth the price of a meal.